Weeping Angel Statue Costume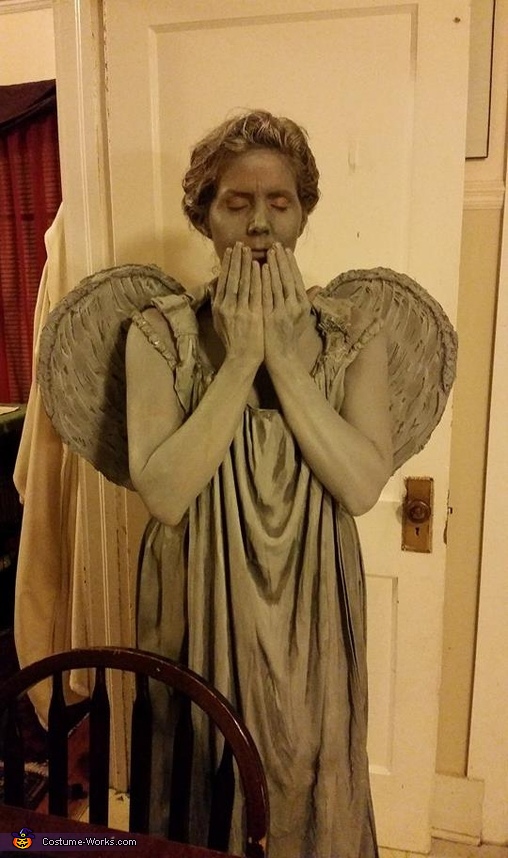 Weeping Angel Statue
More views:
(click to enlarge)
A word from Kristin, the 'Weeping Angel Statue' costume creator:
My family has recently been binging on the BBC TV show "Doctor Who" and we decided to do a theme around this latest obsession. My husband and son are not entered in this contest because their costumes were store bought and straight forward; however, my character the Weeping Angel' was not available for purchase and required a bit of thought and time. Weeping Angels are alien creatures that pose as classic stone statues and are often found near churches, cemetaries and gardens. They are quite scary and can move quickly and quietly when you are not looking at them, even in just a blink of an eye. As they close in on their victims, they have demonic facial expressions and features. So how does one transform oneself into classic Greek statue that comes to life?

The first challenge was finding a dress that would look like something worn in ancient Greek or Roman times. I had little success finding a dress with Romanesque draping during my thrift shop pursuits.  My solution was to purchase a man's toga costume and to alter it (the female Greek goddess costumes did not have enough draping).

I DO NOT SEW. All alterations were done with a glue gun. First, I cut off the fabric which was draping diagonally from the left shoulder to the right hip (called pallium section). This draping was then carefully gathered glued to hang vertically from the neck line to create long vertical draping. I turned the garment inside out to gather to roll and glue and gather the sleeves to make it sleeveless in appearance.

I lengthened the dress to come down to the floor past my feet by measuring and gluing an old tablecloth at the bottom of the dress. Then I used soft garden wire to create a hoop and lined it with aluminum foil. I glued this inside the bottom of the dress to create the appearance of a solid foundation for the statue dress and no visibility of footwear.

To create a stiff exterior to emulate stone, I primed the dress using fabric primer and then housepaint primer. I then painted the statue dress with 'castle grey' housepaint.  I then created shading and highlights on the draping with acrylic paints to make the dress look stone-like.

I primed and painted store bought wings with real feathers to create a textured and sculpted appearance. Acrylic paints were also used to cast highlights and shading in various grey tones.

The hairband, and belt were also primed and painted with all of the same paints. I was very careful to mix a generous amount of all of the different grey tones so the costume would be consistent all over.

I mixed tubes of white and tubes of black crème makeup together to match the dress and applied it to my face, neck, chest and arms with a foundation brush. I shaded with Mehron's "Monster Grey" makeup and sprayed my hair with a temporary silver color.

This costume had a wonderful response. People were constantly coming up to me and telling me how I fooled them. Children who were familiar with the TV show "Doctor Who" were seriously terrified of me and those who were not familiar with the show were amazed. At one party, a Halloween ball at a church, there was someone making a speech and I was standing near the back wall. A couple of guys stood in front of me, unusually and uncomfortably close. When I spoke to them asking them to please move, they jumped, apologized and said they thought I was a real statue. Mission accomplished. This costume also won 'Most Original Costume' at the Halloween ball I attended.