Wednesday Addams Costume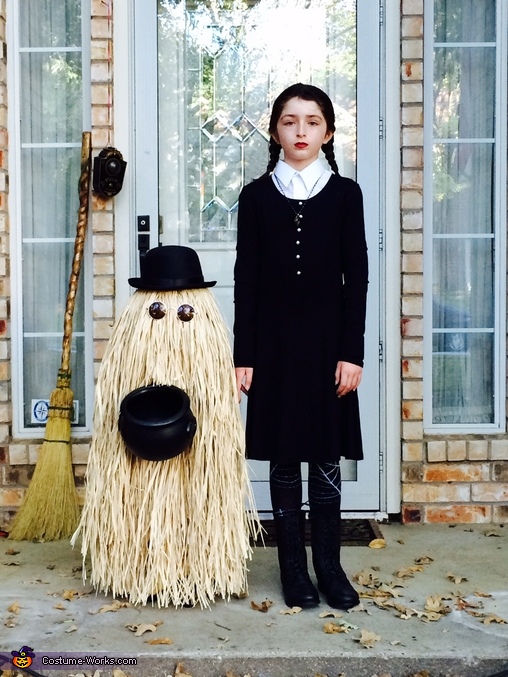 Wednesday Addams Costume
A word from Margaret, the 'Wednesday Addams' costume creator:
I basically forced this costume on my 10 yr old because Iíve wanted to do this to her since she was born with pale skin, long dark hair and a sinister pout. Making her Wednesday Adams took simply finding a cheap black skater dress, sewed on some pearl buttons and a high shirt collar. Shirt came from boys section of kids resale clothing shop which is always good for finding parts. Black stockings have a spider web motif, came from Target. Spent money on the boots but they will be good for winter for years. Found a chain necklace at Michaels, with a locket style fob. They also sold sticker packs of those linticular sepia 1800ís family-album style photos that switch to ghoulish when tilted right. Glue together and she had a cool locket. After tons of hair spray and braids we did a good layer of pale face primer and powder, + bright red lipstick.
But I couldnít stop. The candy pail issue bothered me, so I decided to make Cousin It her pail, and why not give him a pail too. As it had to be light weight and stand on its own, I used raffia for the hair. Couldnít find cheap wigs in quantity and at short notice. But a raffia table cloth gave me enough linear. Took an old pale yellow pillow case and glue gunned around and around till it was all covered. Hat, glasses and pail from just about anywhere-Party City. Under the pillow case, I used an old old orange pumpkin Halloween pail as the head to give the hat something to sit on. Then stole my grandpas 3-toed walker and duck taped it all together. This way she can carry It, set it down, ring the bell, and 2 treats for each stop. Plus I canít stop laughing at how much I love Cousin It.