Saw Costume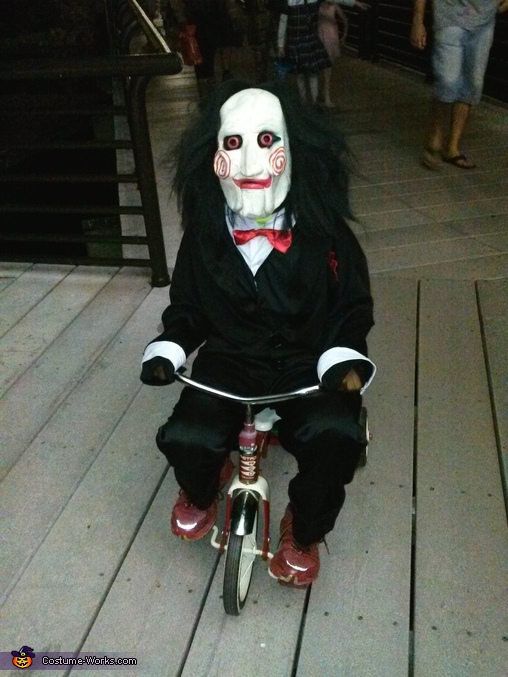 Want to Play a Game?
More views:
(click to enlarge)
A word from Junior, the 'Want to Play a Game?' costume creator:
SAW COSTUME STORY

The reason I had my sister make this costume for me is because my mom finally allowed me to watch the movie "Saw" and it was scary, which is why being scary is what it is all about and Halloween would be the time to wear it. So in order for my sister to make the costume we had to watch the movie again to see what he was wearing. This was a bonus for me.

I watched my sister make the costume out of some old dresses, silk handkerchief, and some white fabric she had. She started making the pants first which seemed to be pretty easy to do. The jacket seemed to be harder because she had to redo the dickey a few times for it to look right in the ex-large jacket I had to wear. Being that I am small I wanted the costume to look as "grown-up" as possible, like Saw. I spray painted my shoes red. I purchased a Saw mask with my allowance as well. The tricycle was a challenge that came from a question my mom asked me. She wanted to know what I could come up with to make this Saw costume more unique? I said a TRICYCLE. Anyone can be Saw but not many will ride a tricycle in their costume. And to even top that I added a cut off dead man's head to the back of the tricycle dragging behind me as I paddled. I added the DEAD HEAD so that it brings out my costume and makes it an original should others have the same idea we came up with.

Well, IT WORKED! The people went crazy with every paddle I took on the tricycle.
They LOVED the idea of the bike and the dead head.
I took a lot of pictures with many different peoples. I felt like a movie star.
I know I will not get to ride the bike again but I surely will wear my Saw costume again.
I thanked my sister and mom for what they did and allowed me to do. They are the best.

Anything else you'd like us to know about your costume? (optional)
Even though there may be a lot of Saw costumes, it's like my mom says " Everyone can where the same costume you wear, it's what you create with imagination and being creative to make it stand out from the others.