Ursula Costume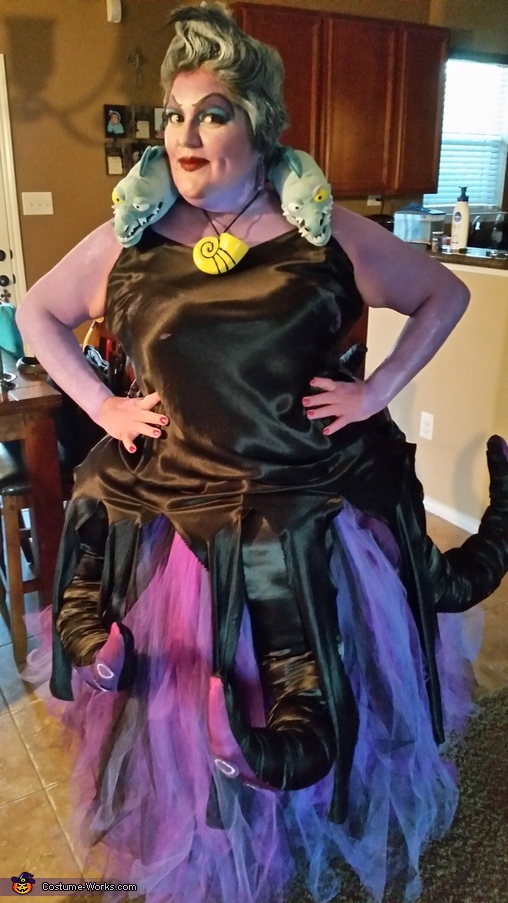 They weren't kidding when they called me...well, a witch...
More views:
(click to enlarge)
A word from Carinne, the 'Ursula' costume creator:
I have always wanted to try and pull off Ursula for Halloween,looked online for a costume, but for big girls, even the "plus size" costume wasn't very plus size-ha! So I set about making my own. I found two old formal dresses at my friend's garage sale, a purple one and a black one, and "Pretty In Pinked" those to make a new dress out of them, that was the original inspiration. I bought the eels online, attached them to dress straps w velcro. Hand stitched all 6 tentacles and made the tutu out of A LOT of tulle. Made jewelry, bought a bag of turritella shells for like 2 bucks online painted with purple nail polish and hot glued onto some earring hooks I had.The necklace is made out of Sculpey clay and little LED lights hot glued in and on back,yay WalMart! Tentacles are attached to leather belt underneath, stuffed with cotton batting and simple wire coat hangers - thanks dry cleaners! Duct taped belt on both sides after attaching tentacles with fishing line to prevent chafing and poking, to secure in place while still allowing movement. Makeup is mostly Mehron brand, both cream and colored powder, recommend large sponge/large brush application for even coverage eyeshadow primer if you have it, and lots of setting powder to keep it on through the night.My hair is short, so I bought novelty store white spray and had Got 2 B Glued hairspray, held it in place all night.Nails are optional, mine are press ons here. The whole thing was't too expensive, improvised a lot with what I already had, came out of pocket for the tulle and black satin for the tentacles, mostly. If you plan ahead and budget though, you can totally pull this off without having to pay as much as you would for a costume. Had such a blast passing out candy and going out on the town after! Great Halloween!