Ursula, Vanessa & Ariel Costume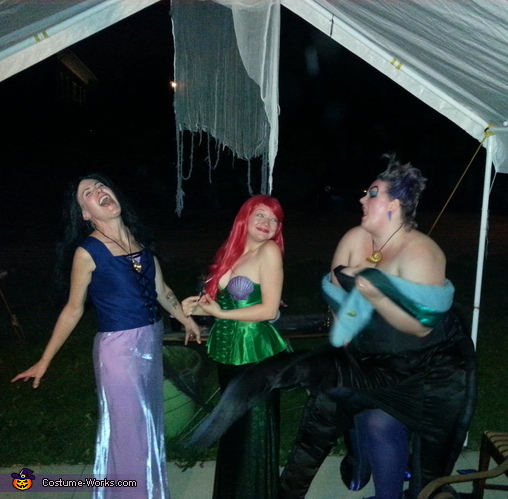 Vanessa, Ariel, & Ursula
More views:
(click to enlarge)
A word from Shantih, the 'Ursula, Vanessa and Ariel' costume creator:
Here are our semi-spontaneous group costumes from The Little Mermaid. We have Shantih as Ursula, Amy as Vanessa, and Jenn as Ariel. We each came up with our own costumes and created them using a combination of DIY construction altering pre-existing clothing and accessories. We call them semi-spontaneous, as the idea came to each us separately. Shantih first decided to be Ursula sometime in August. She'd been wearing a lot of masculine costumes over recent years but she really wanted to be a "sexy ______" this year. What's better than a sexy cerulean??1! She spent a couple months researching the original Disney movie and sourcing the materials she would need. She really wanted to have long separate tentacles and recognizable hair and makeup. Shantih told Amy in the beginning of October, since her husband didn't want to be King Triton, or Prince Eric. (or even Ariel, they do a lot of gender bender costumes) and Amy decided to do some kind of a couple costume with her. Amy was at first going to be Ariel, but the mermaid tail is just so impractical. Plus, she didn't really want to show her midriff. Finally, two weeks before Halloween, we came up with Vanessa! Amy did a bunch of online research (believe it or not, there aren't very many pictures of Vanessa) and found that she wore three different outfits in the original movie, a purple and blue princessy dress, a white corseted top and skirt, and her wedding gown. She decided to go with the purple and blue dress since it had more color and it could include the cloak from the first scene to keep warm in western PA in October! Jenn filled in the trio when she decided to try out an Ariel look this year. With limited time she decided to go with the most easily recognizable outfit and add a few personal interpretations. The week before Halloween, Connie called Shantih to tell her that she was going to be a character from the story also, but that no one would recognize her. Do you? Answer is at the end of this post!

The ins and outs:

Shantih: This costume was one of the more difficult things I've sewn so far. I designed the tentacles to be 6 feet in length and wide enough to cover my hips when stitched together. Each tentacle is 4 pieces of fabric. The top is two long triangular shapes cut from some crepe back satin. I placed a narrow triangle of python printed black pleather along the middle seam to create the "ribs" The underside of each tentacle is a long triangle of this awesome fabric called "liquid satin" in cobalt. The color ends up being closer to indigo with a brighter purple in certain light. After making the 6 tentacles, I sewed them together and added a wide triangle of the python printed pleather to create a web and keep my butt covered, ;-)

I put a wire coat hanger with a glob of hot glue on each end in each tentacle to make them malleable. Then the stuffing! I originally stuffed the whole thing with packing peanuts since they'd be lightweight. It was light, but the tentacles wouldn't move! I couldn't squish them enough to get through doorways, so I had to use fiberfill instead. Fun fact, bed pillows from a warehouse store are cheaper than bulk fiberfill from the craft store, who knew?!? So, I purchased 10 pillows. Each tentacle has an entire pillow in each one plus there's half a pillow stuffed in all of the ribs. (I ended up with 3 extra pillows, but my overnight guests will appreciate them!) After the tentacles were stuffed I added the waist band. In hindsight, I wish I would have done this first, but I just didn't realize my mistake until I was sweating a swearing trying to feed 12 inch thick stuffed tentacles through my sewing machine. Urgh!

I already had the black corset, and was so excited to find indigo tights!! I ordered the gold shell necklace and purple shell earrings from Etsy.

I really didn't want to wear a wig. So, I had my hair stylist cut and color my hair. She couldn't bleach it all the way to white without some severe damage, so we compromised on purple. (young Ursula?) I followed YouTube tutorials for the makeup.

Amy: This costume came together almost effortlessly. Shantih and I went to our local Goodwill to find some pieces to start with. We found the perfect old "prom" dress. It's the lovely shimmery lilac that falls in almost a tentacle way. The top of the dress was all wrong. It was a high halter with a ton of beads and sequins. A few fearless cuts and stitches and the dress became my skirt.

Then, I made the corseted top from some dark blue fabric Shantih had in her stash. Believe it or not, I've never learned how to do buttonhole stitches, so the ribbon is threaded through a series of safely pins hidden inside. I think it's actually better this way. The pins are stronger than a hole in the fabric.

I had the dark wig in my costume box, it just needed some styling. I added some dramatic makeup and, of course, my shell necklace.

All we needed was an empty poster frame to pose the photographs. we had a great time!

Jenn: This costume was put together quite quickly while I was also performing in a play. So needless to say, I didn't have much time to be incredibly creative. I was going to have to buy most of my costume, but it couldn't just be a Halloween store bagged costume, I was inspired by Shantih's amazing DIY Ursula costume.

I was so glad to find a lot of these pieces on Amazon. To tell you the truth, this was a great excuse to pick up some swanky new mermaid gear. My interpretation of Ariel consists of this really fun metallic green corset with a built in peplum, a long mermaid skirt with a perfect scale print, and come just-so-happened-to-have green pumps in the brightest shade of green.

I did pick up the seashells, and had the hardest time attaching them to the corset. I ended up gluing broach pins to the back of them and then simply clipping them to the top.

I currently have red hair a lot like Ariel's, but it's cut into a pixie length. So, I had to wear a wig. The last thing was my dinglehopper, a very large meat fork!

All together now:
We hope you like our costumes because we really had a blast becoming these fabulous characters!! There's something about seeing yourself in the body of a well loved princess or much feared villain that forces you to take on the personality. We sang "Part of Your World" and "Poor Unfortunate Souls" many times during the Halloween party! This whole Halloween season was one of the best, it will be hard to top.

*Spoiler Alert* Ursula with "Ariel from the end of the book" AKA: Sea Foam!!! Seriously, so obscure yet creative. Connie printed out the saddest Ariel face, and attached it a massive headdress she created from shimmery sheer fabric, "old man's beard" moss, corrugated foam cut into strips, and paper. She also added printed pictures of several other Disney's The Little Mermaid characters and Swedish fish in amongst the debris. Brilliant!