Ursula the Sea Witch Costume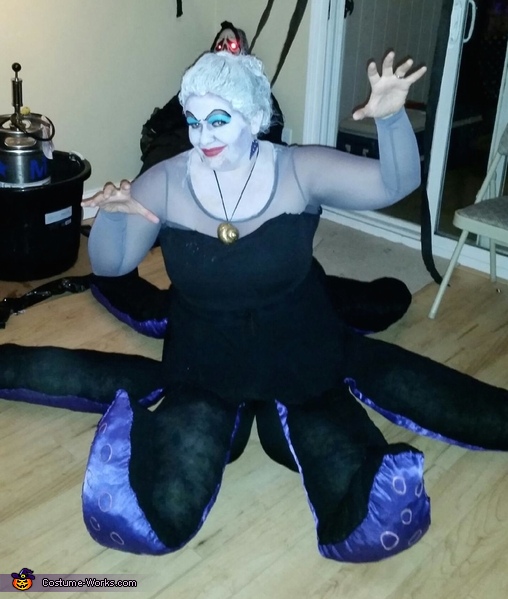 Happy Halloween!
More views:
(click to enlarge)
A word from Erin, the 'Ursula the Sea Witch' costume creator:
I made this costume myself! I cut the tentacles out of a black maxi skirt. Then I sewed purple satin fabric underneath. I stuffed them with foam and polyfill and stitched them up at the top. Then using a light purple glow in the dark puff paint, I painted the suction cups on the purple satin. When I tried it on, I realized that all the cool purple stuff underneath was kind of getting lost under the tentacles, so I bent the two front tentacles up and stitched them up there so it would show the bottom part more. I spray painted those cone shaped shells purple and attached them to earring hook for the earrings and spray painted the big shell gold and put it on a black ribbon for the necklace. I got really lucky and found that top with the sheer grey sleeves at Joyce Leslie (I didn't want to have to paint my back and arms cause I knew I'd get make up on everything that I touched all night, but you could do that as well if you like), and I just pinned a black tank top (minus the straps) over the chest. My hair is pinned up with bobby pins and painted with 4 cans of white spray hair coloring and a little bit of white show polish for highlights. And I did my make up copying a picture of Ursula from the internet.