Up Scout Russell Baby Costume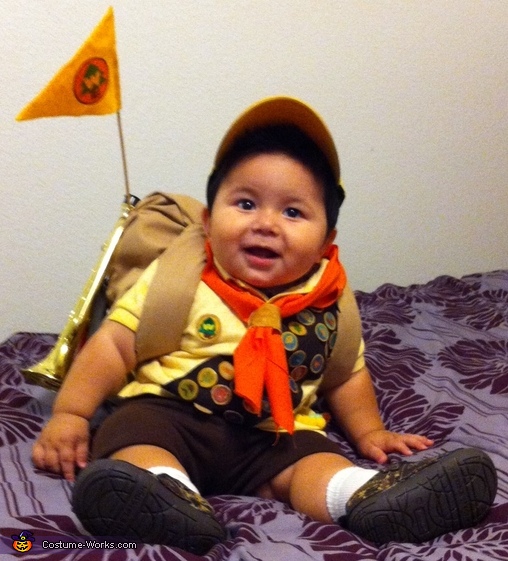 Boy Scout Russell from Up
More views:
(click to enlarge)
A word from Adanel, the 'Scout Russell from Up' costume creator:
When my son was about 4 months old a few friends and family members started coming up to me and telling me he looked like Russell,the little boy from the movie Up. I had heard of the movie, might of seen previews about it, but never really payed attention to what the boy looked like. The more I had people telling me, I decided to finally google "the boy from the movie Up", immediately I saw the resemblance. After hearing it over and over his dad and I decided that we would dress him up as Russell for Halloween.

For the hat I used a baseball cap my sister loaned me and covered the top with yellow duct tape I got from the dollar store. The shirt was a white polo he already had, all I did was soak it in water that I had dyed with yellow food coloring. For the WE logo on top of his chest I cut out colored felt and hot glued it together. The sash is made out of felt and for the badges I got them on google and printed them on transfer paper, ironed them on the felt, cut them out, and hot glued them to the sash. After the sash was ready I just hot glued it to the shirt. I bought $3 sweatpants, then cut & sewed them into shorts. For the leather patch with beads Russell has, I printed out the image of the patch on transfer paper then ironed it on felt, and hot glued it to the shirt. For the beads I used yellow and green furry pom poms that were hot glued to the shirt as well. The neck bandana is just a piece of orange fabric, with a strip of light brown felt wrapped around it and the WE logo ironed on it. For the backpack I really did not want to go out and buy one just for the costume, so I used a ninja turtle backpack he had gotten as gift and I covered it with brown fabric. I bought the trumpet and army swiss knife from Amazon, the orange string that's supposed to be "rope", I got at Walmart. The flag is made out of felt, I ironed the WE logo on it that I printed on transfer paper, then hot glued a wooden stick on it that I found laying around the house. The shoes were from Walmart and socks were just some plain white socks he already had. The overall cost was about 30-35 dollars.

It was my very first time attempting a DIY costume, I was a little scared I wasn't going to do such a good job at it, but I was very surprised and proud of myself because it turned out better than I thought it would. Everyone absolutely loved it, he got lots of attention because of it and people were just amazed at how much he really looked like Russell. The pictures do it no justice in my opinion!