United States Army Black Hawk Pilots Costume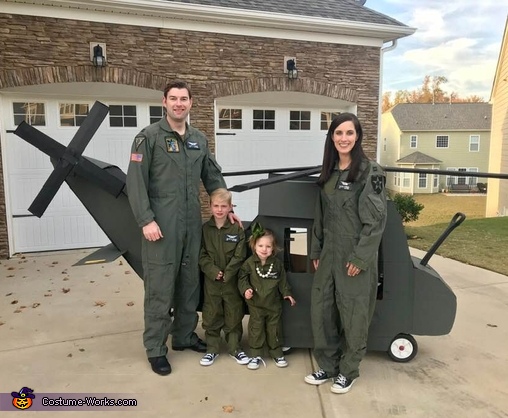 United States Army Black Hawk Pilots
More views:
(click to enlarge)
A word from Kimberly, the 'United States Army Black Hawk Pilots' costume creator:
I am submitting this on behalf of my brother, sister-in-law, nephew, & niece. My brother's homemade Black Hawk was quite the hit!!! He served in the Army & was also a Black Hawk pilot, serving tours overseas, so this year's Halloween theme for his family was very sentimental & really had A LOT of heart put into it! Our family has a HUGE heart for our military!

I have always been amazed at how artistic and talented my brother is. He has always been so crafty for Halloween over the years. Last year, the entire family was the Scooby Doo gang and he handmade the Mystery Machine Van for the kids to ride in AND he also handmade & painted Scooby Doo! The year before, they were the Ghostbusters and he handmade the Ghostbusters car for his kids to ride in! Before my niece was born, he handmade a Batmobile for my nephew one year as well. Every year, his neighborhood can't wait to see what he will come up with. This year was epic!

This would be such an honor for him to win something for his creativity, his time, and his efforts to make sure that each Halloween is unforgettable for his kids - and also his service for all these years to our country!