Unique Halloween Costumes
Around the beginning of October everyone's focus seems to turn to creating unique Halloween costumes. Everyone wants to be the scariest or the bloodiest or the most gruesome. Nobody wants to be just a vampire or merely a werewolf. You can buy costumes like that at the store. No, these days, those who want to be truly unique, use every ounce of creativity they have to create a Hallooween costume that rocks!
Here at Costume Works we amassed quite a collection of awe-inspiring costume ideas. Every year we hold an online Halloween Costume Contest and each year more and more people send us their pictures to be featured in our Photo Gallery. If you're trying to come up with ideas for creative and unique Halloween costume then this is the best place to start.
But what makes a unique Halloween costume?
If not a zombie or a vampire or a witch or a ghost, then what else is there?
Well, you can start with those characters and add a twist. For starters, look at your own personality. Are you a jokester? Are you what most people would consider the 'Life of the Party?' Then maybe you could be a zombie clown or a witch dressed like Raggedy Ann. You can see one of our favorite examples in tis photo sent in by Christine. Here she's wearing her homemade Living Dead Doll costume, a perfect combination of fun and creepy.

But these days the idea of a traditional Halloween costume has pretty much gone out the window. Just take a tour of our Costume Photo Gallery and you'll see. When you decide to make a homemade costume and really use your imagination, anything is possible.
Afraid you can't come up with something all by yourself that will be scary enough? Take a look at this homemade Soul Walker costume. It literally looks like something that just walked out of a nightmare! And it's definitely unique, that's for sure.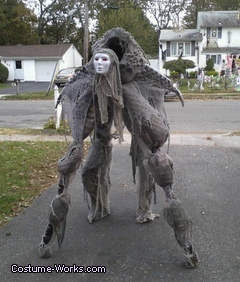 And a Halloween costume doesn't have to be about Halloween at all. Just look at this picture of Jade dressed in her Christmas Tree costume. You won't see many of those running around at your Halloween party.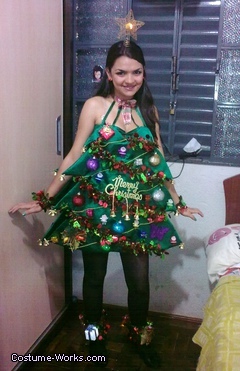 Unique Halloween costumes aren't really something you can buy in a store. You can buy bits and pieces but it's the way you put those pieces together that makes them unique. Take a look at some of the online costume stores to find some good basic ideas and then come back here to scroll through our Costume Gallery. Most of our readers have sent in the details of how they created their costumes. We're sure you'll find something here that that sparks the creative beast within you. And, of course, we hope to see your unique costume in our Halloween Costume Contest this year! (click here to enter)

View other unique homemade costumes in our Photo Gallery