Unicorn Costume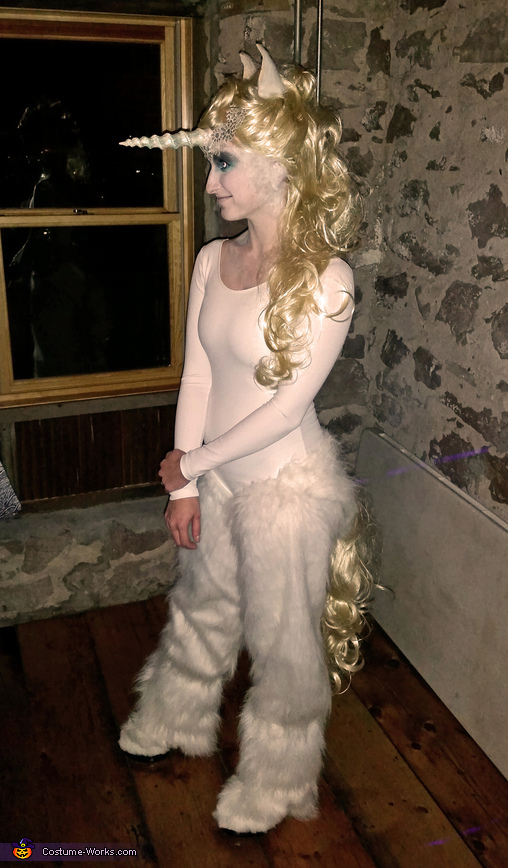 Unicorn Costume
More views:
(click to enlarge)
A word from Sharon, the 'Unicorn' costume creator:
I have always had Unicorn on my "to do" list of desired Halloween costumes, but put it off until I could think of the best way to execute it in a non "cheesy" way. This year, I came across a photo of a make-up job that inspired me to make Unicorn happen this year.

For this costume I used a white leotard (legless), White long pile faux fur fabric, thrifted platform heels (for the hooves), horn prosthetic, scrap faux fur and suede (for the ears), two blonde wigs, and spirit gum and liquid latex.

I crafted two fur pant legs and attached them to the leotard. I then crafted a rounded fur portion that I attached to the back of the leotard to cover my backside (I did not attach it to the legs so that I had free range of motion.) I then attached one the wigs to the backside portion for the tail. I used the left over fur to craft the hooves. I used hot glue to attach the fur to the shoe, allowing the platform portion to show to mimic a hoof. I trimmed the fur around the hoof and saved this trimmed fur for the make up job. I ordered a prosthetic horn on Ebay that was bone colored. I wanted more whimsy so I used acrylic paint (metallic white, turquoise and gold) to achieve the look I wanted. This attached to my head with spirit gum. I used the second wig for my "mane" and styled it with the sides back and into a faux-hawk for a mane-like look. Because my own ears showed and I didn't want them to, I attached the trimmed fur from when I made the hooves to my ears and the sides of my neck with liquid latex. I wanted to cover the portion of the prosthetic that is needed to attach it to your skin, so I used a pretty patch applique that I attached using liquid latex and then carried it up into my "mane" and attached it with bobby pin. For the ears, I had just enough scrap fur left to cut two triangles. I cut two triangles from the tan suede of the same size and attached it to the no fur side of the fur fabric triangles to mimic the soft velvetness of a horse's ear. I then folded the triangles length-wise and used an exacto knife to cut slits toward the bottom so that I could slip a bobby pin through them to attach them to the wig. I finished the look with white make up and flashy glittery eye shadow.

While I had seen unicorns out and about in previous years and know the idea in and of itself is not original, I feel I achieved my goal of executing it in an original, feminine, and elegant way!