Under the Sea Costume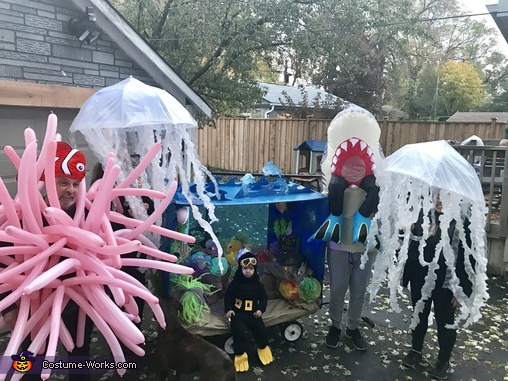 Under the Sea Costume
More views:
(click to enlarge)
A word from Susan, the 'Under the Sea' costume creator:
I decided this year to make an under the sea theme. Since my son loves visiting the aquarium so much.
I turned my sons wagon into the aquarium. It cost about $70 for the spray paint and treasure box etc. I got some small boxes wrapped packing paper around them. Used food colouring to die coffee filters to make the coral. Printed some fish off, painted the treasure box and cut out some vinyl on it. I put blue cellophane on the cut out I made in the back so you could see through it. I did some waves on top of the box with dolphins jumping out on top. Most of the stuff I used I had at home. I had a wave light I stuck on the top so that you can see the inside of the box when it got dark. I made a little department that we could keep a portable speaker inside to have Under water sounds playing.
My son was a scuba diver cost me $15. I used his goggles from his tool set. Cut up a resistant work out band I found at the dollar store for tubing and some straps with Velcro to secure the bottle to his back. I got a yellow foam sheet cut out some flippers to attach to his feet and for the weights on his belt. I had silver spray paint at home I spray painted a 2L pop bottle. Used a soother for the mouth peice and put it in a plastic part from Home Depot in plumbing section. I spray painted too. Also added a preasure guage for his costume.
My husband was a shark with a scuba diver coming out of his mouth that has a inflater inside his costume. $20
Father in law was nemo anemone. We got him an nemo hat and this took 40 long pink balloons that I twisted in half tied a string around it and attached it with a safety pin to his sweater. $40
My sister and myself we jelly fishes. I took an umbrella put plastic table cloth around it and used bubble wrap and strips of table fcloth that I pulled out on the sides to give it that tentacle look. Taped string lights to the inside of the umbrella. The cost was $15 each.
This year definitely trumped last years DJ costume. Most people trick or treat in our neighbourhood always remember us from our costumes. Itís so fun fun for the kids we love it!