Twin Magic Costume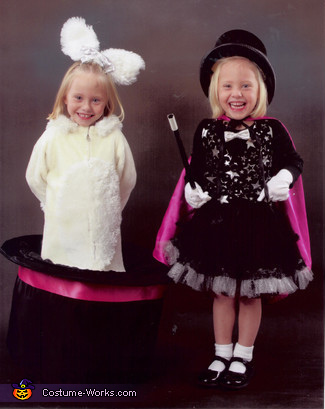 Twin Magic
A word from Heidi, the 'Twin Magic' costume creator:
I like for my identical twins to compliment each other, yet be different.
I thought of this idea and had a very hard time making it come to life. I used a lot of recycled products and dollar store items as well.
The bunny hat is made out of two recycled hampers. Covered with costume fabric. The supports within are elastic pieces. The bunny costumes was recycled from very large poodle ...I cut the head off and moved all the parts to the body...such as the ears were floppy and I added wire and put them on barrettes. I put the poof ball from on top of the head on her bottom which made a wonderful tail.
The magician was a bit easier, I used a recycled black long sleeve shirt (was cat in the hat last year)...cut and glued a star vest on it...made her a silver bow tie and another silver bow tie for the bunny ears as well...I tied a black tutu in by adding more silver to the bottom of that as well. Her wand was made from dollar store find I just added white duct tape also found at the dollar store. The hat was one thing I had to buy...I just added pink ribbon to match the two hats and cape.
The girls wearing the costumes are ANNA and AVA twins.