Tree, Acorn, and Squirrel Family Costume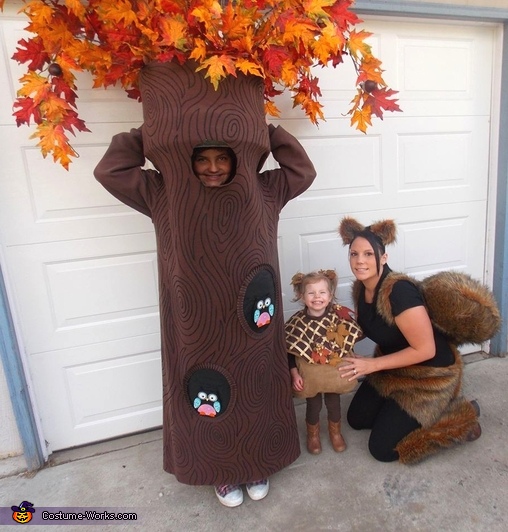 Tree, Acorn, and Squirrel Trio!
A word from Candace, the 'Tree, Acorn, and Squirrel' costume creator:
My daughter Tinsley, my niece Celestine, and I all decided to dress up as a tree, acorn, and squirrel trio. The idea originally came from a family friend. I wanted a costume for my daughter that was original, and definately not store bought. They suggested that we could be a squirrel and acorn combo. I thought the idea was genius and super cute. Once it was decided, my niece then decided she wanted to be a tree to go along with the theme. My daughter's acorn costume was made from fabric, ribbon, leaves, and acorns all purchesed from our local craft store. My Aunt sewed and designed the whole costume. My squirrel costume was made from faux fur fabric that I bought online. I stuffed my tail with newspaper and old grocery bags. And my niece's tree costume was made with brown fleece fabric and I hand painted the tree bark on it. I then attached the fall leaf branches to foam rings and added wire hangers for support. I made owl holes and attached wooden owls to the fabric. I also added fake acorns to the branches, since my little girl was an acorn :) I then just attached the brown fleece bark fabric to the foam. The whole top of the tree is being worn as a "hat" with the fabric hanging down. I cut 2 arm holes and a face whole and Ta da! Done :) We have gotten numerous compliments on our costume trio and have had a ton of fun wearing them.