Trantor the Troll Costume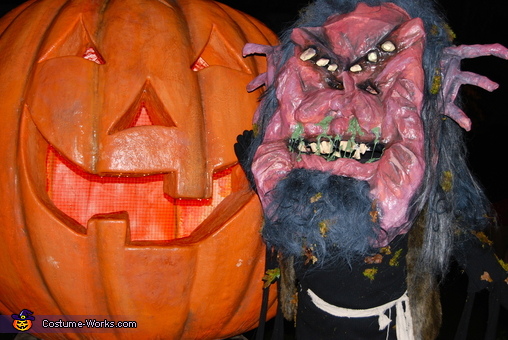 Trantor the Troll
More views:
(click to enlarge)
A word from Emily, the 'Trantor the Troll' costume creator:
The idea for this costume was inspired by the movie "Ernest Scared Stupid". Growing up, I loved watching this movie every Halloween with my family. So, this year I decided that I would bring to life one of my favorite Halloween memories- Trantor the Troll!
The main piece of this costume, the mask, was created over a three week period. First, I formed a base to create a frame for the face using recycled materials. Items that I used included toilet & paper towel rolls, soda bottles, milk jugs, cardboard boxes, and newspaper. After the base was formed I started shaping the details of Trantor's face using newspaper strips dipped in flour, water, and Elmer's glue. A method of paper- mache. Once the face was finalized, I used acrylic paints to create a more lifelike and animated face! The "boogers" were created using a hot glue gun.
The rest of the costume was decorated with moss and leaves from my backyard, old work boots, a ragged shirt from a local thrift shop, and used Halloween wigs sprayed with gray paint.
The overall cost of the costume was roughly 20$. Using recycled items from home and buying cheap local goods, I was able to keep the cost of this giant creature to a minimum.