Transforming Elsa Costume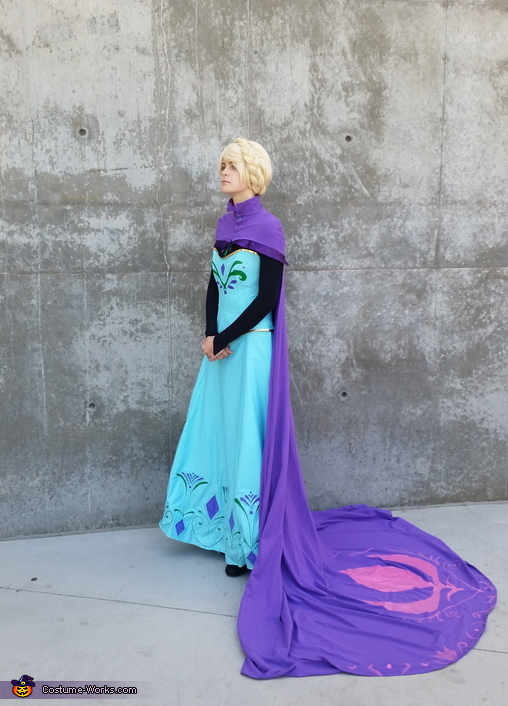 Coronation Dress
More views:
(click to enlarge)
A word from Kaylee, the 'Transforming Elsa' costume creator:
I am wearing this costume, dressed up as Elsa from Frozen. I got the inspiration due to my indecisiveness. I couldn't figure out whether to be the snow Elsa or have her coronation dress, so I picked both! This was the fourth costume I ever attempted- everything was sewn by myself.
I made the crown out of clay, attaching it to butterfly clips and securing it into the wig.
The purple cape was a pattern I drafted myself. All designs were painted on with puffy paint.
The coronation dress top was painted with puffy paint, and the high black collar was accomplished with foam!
The designs at the bottom of the coronation skirt were made with puffy paint. On the inside, the designs were lined with el wire- lights! these lights were strung throughout the dress and lead to battery packs that were attached to my thigh by stockings- there were five battery packs in all! Adjusting them was a challenge!
The beginning of my transformation started with shedding my long purple cape. My handy side kick, Izzy, was a lifesaver as she would pick up everything i had to discard!
The top of the Coronation bodice has a long zipper in the back which had a string attached to it (similar to a wetsuit) I would pull the string down and pull off the top. Underneath was my Ice cape, carefully tucked up to be perfectly hidden. It would fall down to reveal the Ice bodice. The skirt had a hidden panel that I would unfold to make the coronation skirt turn into the ice skirt. This whole transforming process took about thirty seconds. (When my zipper didn't get stuck!)
The whole Ice cape was decorated with intricate patterns of swirling dots that I painstakingly painted on by myself (I went through seven bottle of puffy paint adding those dots- well over a hundred thousand of them!) There is even a hidden Elsa and Anna on the cape as a tribute to Disney's obsession with hidden mickeys! The bodice of the ice bodice was made of a fabric base to which painted squares of paper were glued and sealed onto. The construction took me about a month to do and was really rewarding! All the supplied (100 feet of lights included) cost me about $250, but I it was all worth it when a little kids thought I was the real deal! Thank you for having this competition, I love looking at all the fantastic ideas! If people have specific questions, feel free to shoot me an email!I have a video of the transformation if you are interested! My friend Izzy was the photographer!