Optimus Prime Costume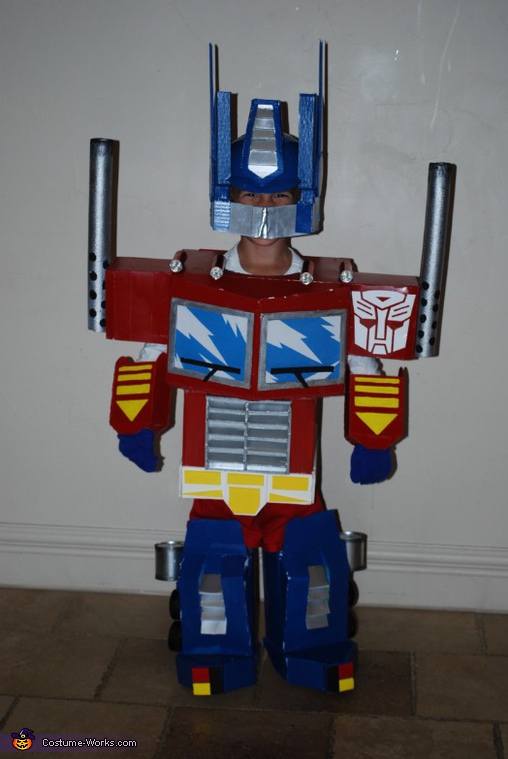 Optimus Prime Costume
More views:
(click to enlarge)
A word from Mickell, the 'Optimus Prime' costume creator:
My 5 year old LOVES Transformers! When he asked me a few months ago to make him an Optimus Prime costume, I started to collect boxes and took on the challenge! We decided to create a costume from the original Optimus Prime. (The one from the cartoons when I was a kid!) I worked on it off and on throughout the day for about 2 weeks. The best part about this costume is that it was cheaper to make than it would have been to buy the generic costume from the store! Most of the parts required to make it were things I had around the house. The only thing I had to buy was the spray paint, 4 flashlights and a sheet of foam board! It took quite a bit of patience and lots of trial and error but it sure paid off! He couldn't be happier with it and is SO excited to trick or treat!
Lots of Boxes
1 Sheet of Foam Board
4 small flashlights (dollar store)
Childs hard hat (dollar store)
Glue gun/sticks
Spray Paint: red, blue, silver (glossy)
Old Snow boots
Foam pipe protectors (2)
Razor knife
Ruler
Winter gloves
Yellow, blue, red, black craft paint
2 sheet protectors (for windshields)
4 wheels from an old toy car
2 small tin cans (emptied mushrooms)
LOTS OF PATIENCE!