Toy Story's Woody and Buzz Lightyear Couple's Costume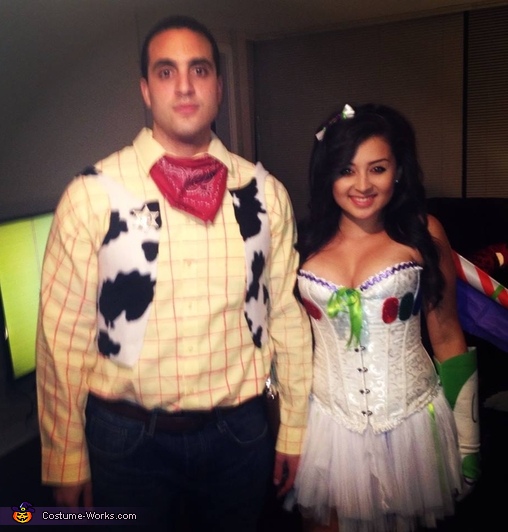 Sheriff Woody and Ms. Buzz Lightyear
More views:
(click to enlarge)
A word from Caitlyn, the 'Toy Story's Woody and Buzz Lightyear' costume creator:
This is such a great spin on your traditional cliche couples costumes! You can even reverse the roles easily! Woody and Buzz got a lot of attention this halloween and it was a very fun costume to do! You can even have 2 girls and 2 guys pull this off!

For Woody, We found a yellow button down shirt and I personally hand drew on the red lines across the front and back. For the cow vest, I found the material at a fabric store and cut out the vest and hot glued it to the dress shirt. We completed the look with the red bandana around the neck, my boyfriend also was wearing a hat which is hanging down his back. He also wore cow boy boots with ANDY written on the bottom, backwards N of course! The whole costume cost around $40.

For Buzz, I had a plain white corset which I hot glued felt to make Buzz's buttons. I also decorated the corset with various ribbons to make it look cuter. I found the blow up wings on amazon for very cheap around $10 and the gloves were $5. I then made a tutu and completed the look with gluing glow sticks to the boning of the corset for a cool glow in the dark look! This whole costume cost around $60. The most expensive part was the corset which was $40.