Toy Story Jessie, Woody and Buzz Costume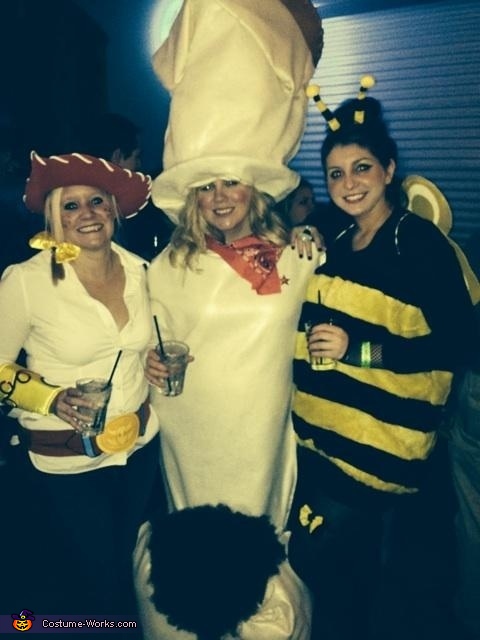 Jessie Woody Buzz
More views:
(click to enlarge)
A word from Kathy, the 'Toy Story Jessie, Woody and Buzz' costume creator:
Not sure if you will post this, but it was a huge hit at a bar party. I got the idea because isn't funny that Andy's favorite toys in the movie Toy Story are Woody and Buzz? Lol. So then the thought of the "play on words" came into my mind.

My sister-in-law we made a normal Jessie so people would "get" us. My niece we made a bee for "Buzz" and we made me a "Woody". I originally was going to purchase an inflatable "Woody" costume off of Craigs List, but the owner decided to keep it. It was the day before the party, so too late to order. So then I started creating...

-purchased felt, foam, stuffing, glue gun, a small wreath form, small Woody costume (for the hat) and Woody stickers. Approx cost $50. 8 hours later I had my Woody.

I wanted to be a 10 foot tall Woody so I -placed foam in a circle around a top hat we had. You need something very sturdy to hold the weight of the top of Woody.
-added balloons and stuffing to make it plump
-Added the felt on top and molded the design with safety pins and the glue gun

For the body:
-cut the felt to size and used the glue gun to close the sides leaving room for head and arms
-used string and the wreath form as a pull string for Woody and wrote "There's a snake in my boot" with a Woody sticker on the back.

Accessories:
-borrowed cowboy boots and wrote Andy on the bottom of one boot
-used an afro wig we had as hair and pinned it on
-stuffed two circle objects and pinned them on the bottom
-pinned the Woody hat to "The Hat"
-made my cheeks round and pink like Woody's
-curled my hair bc I was a 10 feet tall x and I needed something girly, LOL

I had to really play around with the entire top hat because it was really heavy. Felt made it heavy.

Everyone was puzzled at first seeing the tall hat. But once people saw the full costume they freaked out! Would have won best costume but a waitress from the bar had her boyfriend in the contest and had lots of shouts for obvious reasons. (Costumes were judge by audience applause.) It was a good coatume, but our Toy Story gang rocked!

It was a fun costume!