Toy Story Costume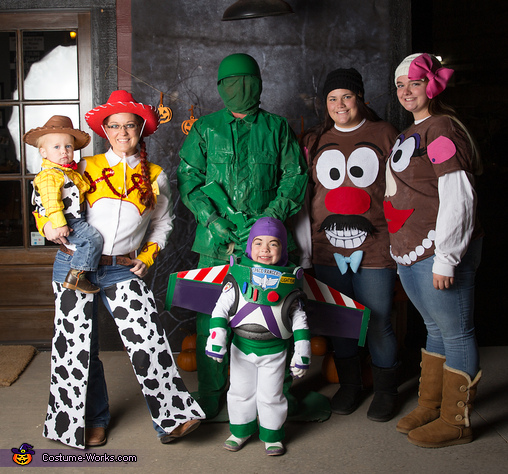 Toy Story Costume
More views:
(click to enlarge)
A word from Cynthia, the 'Toy Story' costume creator:
Jessie- I used a long sleeve white shirt and painted the yellow on the back, chest and wrist. Then hot glued red sequin ribbon on. Sewed chaps and attached them using safety pins to my jeans. The hat was a cheap pink hat so I painted it red and drilled holes to wrap the white ribbon through.
Woody- I died a white shirt yellow then used a fabric marker to make the plaid design. Sewed the vest. Cut down a regular bandana to fit a toddler. Cut a small womans belt down to his size. Then added a pull chain on his back using a wooden "o" and string. Bought the fo hat at the store.
Army Guy- bought clothes and gloves at the thrift store and spray painted them. Attached cardboard to the bottom of old boots. Put pantyhose over a balloon the size of his head and spray painted. Once dry, popped the balloon and it is a face mask. He carried a toy gun spray painted the same color.
Buzz Lightyear- I made the pants out of white and green felt using a pair of his pants as a pattern. White tshirt with the logos I found online put on the sleeve using hot glue. Cheap canvas shoes painted. Purple hood was made using a baklava as a pattern. Gloves are white gloves with the finger tips painted purple. Then I made covers for them using felt, being sure to add "buttons". The chest was made from a foam camping mat. I wrapped it around his body to get the size then cut and hot glued and duct taped it together. I layered more foam on the top to make the shield and buttons. Then used pipe insulation around the arms to create the joint look that Buzz has. The wings I nade out of cardboard and painted.
I used another piece of foam held together by a piece of elastic hot glued on so it would stretch to get on and off. Then covered that with pipe insulation I cut in half. This is the two black rings you see around Buzz's waist.
Mr and Mrs Potato Head- white tshirts that I died brown. Cut out face features and hot glued on.
All costumes made by Mom!