Titanic Frozen Jack & Rose Costume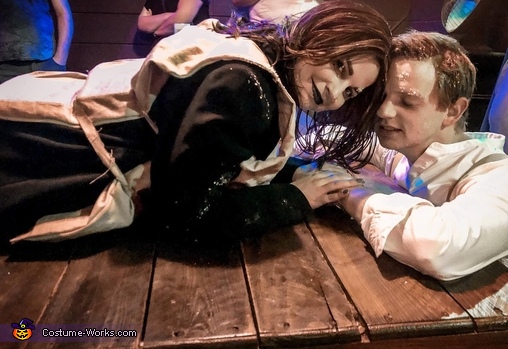 Never Let Go!
More views:
(click to enlarge)
A word from Meghan, the 'Titanic Frozen Jack & Rose' costume creator:
My husband and I love being epic romances for halloween. We really wanted to be Jack and Rose from Titanic this year but took it one step further. Frozen Jack and Rose would let us do fun ice makeup! Jack's costume was very easy but make sure you add broken handcuffs for that extra detail. Rose was much more difficult. I had to make the vintage life vest using a linen fabric and put styrofoam blocks inside to give it that look. The door was a science board that I put wood contact paper on and added wooden details on the top. Then just put loops through it so I could wear it like a backpack. We had so much fun and received the most compliments out of any other costume we've made.