Three Generation Toy Story Costume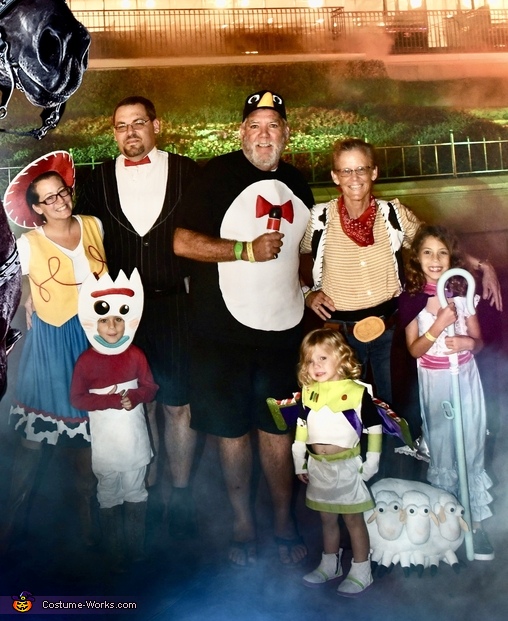 Totally Toy Story-Three generation group
More views:
(click to enlarge)
A word from Darcy, the 'Three Generation Toy Story' costume creator:
I made 10 Toy Story costumes for my family this year. I made Buzz for our 2 year old, Forky for our 5 year old and Bo Peep for our 7 year old. I sm Jessie, my husband is evil ventriloquist dummy, mother is Woody and Dad is Wheezy the penguin. I also made Ducky, Bunny and Duke Caboom for me brother's family.
The kids loved the new Toy Story movie. I let everyone choose their character. No one chose the same one.
Bo Peep has a top and bottom from a blue sheet. There's white ribbon and lace . The waistband is stretch velvet. The cape is satin and her sheep are polar fleece fabric.
Forky is made from a white faux suede . There is a white overall with a white and red long sleeve tee over them. The mask is fabric covered foam with craft foam facial features.
Baby Buzz is my favorite. Our 2 year old chose Buzz. I made her a retro 1960s style spacesuit. She has a long sleeve midriff top snd miniskirt with space booties. The designs were hand painted on the top.
Her wings are foam covered with fabric. It has red striped ribbons and sparkly purple card stock paper glued on.
My Jessie costume has a yellow vest with red piping. The skirt has a black elastic waistband, blue body and white trim with painted black spots.
The dummy is wearing a black tee and shorts with hand drawn pinstripes. It has a collar and shirt front cut from a button down.
Mom's Woody costume has a yellow check shirt. It has a hand painted vest. The jeans have craft foam belt buckle and holster over them. The boots have hand drawn designs.
My Dad is the serenading penguin Sweeky. He has a cap with hand painted eyes and fleece beak. His black shirt has a white chest and bowtie glued on.
The best part is ge has a microphone and Bluetooth speaker under his shirt. Ge sings"you got a friend in me ".
My brother and his wife are wearing hand painted caps with fleece ears and beak or nose.
Lastly, my nephew has a satin shirt and pants with hand drawn designs. His cape is hand painted.
We had so much fun creating family memories and bonding together!