Thranduil, King of Mirkwood Costume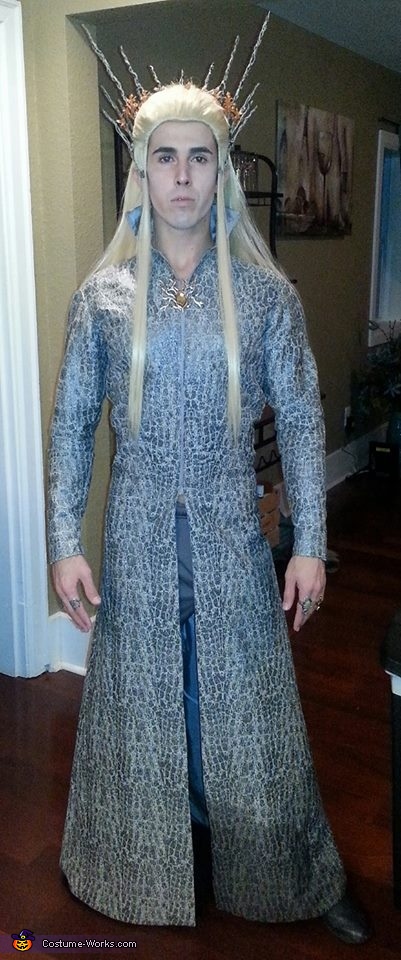 Thranduil, King of Mirkwood Costume
More views:
(click to enlarge)
A word from William, the 'Thranduil, King of Mirkwood' costume creator:
I decided to make this costume last Halloween in anticipation for the release of the last Hobbit movie in December. I have always been a Tolkien fan and love the cinematic adaptations of his work, not least of all for the AMAZING costumes! Thranduil's character in the films and his costume design inspired me to try to create my own rendition of his "The Desolation of Smaug" look, and I was pleased with the result!

I patterned the floor-length tunic in 4 panels (2 in front and 2 in back). Each half the front is constructed of 11 individual panels. In the back, I added princess seams to accommodate a dart to give it a very fitted look to try to re-create the slender elegance seen in the movie version of the costume. The material is brocade. I made the crown by twisting floral wire together in varying thicknesses and created a base that I then covered in hot glue and painted. I cut up a fall floral arrangement for the orange/red accents along the top of the crown. The back of the tunic is considerably shorter than it was in the movie, mostly because I wanted to be able to walk easily. I bought a cheap pair of gray boots and slightly modified the cuff to look like the movie version.

Overall, this costume took me about a week to pattern and a week of very long nights to sew (I was balancing undergrad classes and a job while trying to finish in time for Halloween!). The crown, which I think is the best piece, was relatively simple-- the glue allows it to be flexible yet sturdy, so there was no risk of it breaking if it fell off!

When The Battle of the Five Armies came out I wore it to the premier in downtown Knoxville and had an absolute blast taking pictures with other Tolkien fans. All in all, it was a ton of fun, a lot of work, and totally worth it!