Thomas & Friends Costume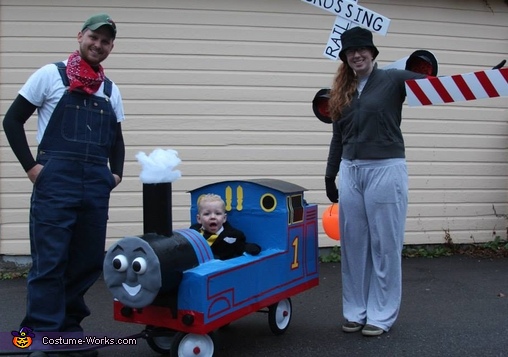 Sir 'Henry' Hatt, his Thomas, and his conductor at the 'crossing'
More views:
(click to enlarge)
A word from Ashley, the 'Thomas & Friends' costume creator:
Our 1-year-old, Henry, LOVES Thomas and Friends but I didn't like any of the manufactured Thomas costumes, so we decided to make our own. Originally we were going to make him a Thomas train to wear, but were worried he wouldn't be able to trick-or-treat easily if he was surrounded by a box. We wanted something that we could use to help him get around the neighborhood, but it's also important to us to do things as a family. We decided to turn our Radio Flyer into a Thomas train and Henry could be the railway controller, Sir Topham Hatt!! Then, Dad would be the train driver and pull the wagon. I dressed as a railroad crossing sign because Henry loves to see them when we're driving about town.

We used a variety of empty diaper boxes, a concrete form, packing tape and other cardboard to make the structure that slid over the wagon. With an X-acto knife, I cut all the boxes to envelope the wagon, taping as I went. We used our son's Thomas toys and books as models so that we could get the shapes right.

Then I slid the structure off the wagon so that I could paper-mached the whole thing. I wanted it smooth and consistent texture so that any paint would stick. We spray painted it blue before painting in the black. Later, I used black and yellow cardstock to make the details like port holes and whistles and hot glued them onto the train. I also hot glued crumpled black construction paper for the pile of coal. There's torn-up batting stuffed into the funnel for steam.

The face took longer:: I drew the outline of the face onto cardboard and then built up the dimension of the cheeks and nose, etc., with fleece that I hot-glued in place. Then I covered the whole thing in grey fleece, pushing it into the dips and valleys as I glued. I glued a Styrofoam ball cut in half for the eyes and painted the pupils.

The train took two nights to build, 3 nap-times to paper-mache, 1 Saturday to paint, 2 days for the details and 1 nap-time for the face.

For his costume, I stitched his vest out of felt and a kid's painting apron, which took me about 2 days. His clothes and hat were found at Goodwill. Dad dressed at the train driver with overalls and bandana. I was the train crossing, cut and taped from foam board. I used red glitter for the lights, red duct tape for the lift arm and black card stock for the visors. I made the whole thing while watching a football game on TV.

We got GREAT reactions. Everyone thought Henry was adorable, and he loved riding in the wagon for trick-or-treating instead of having to walk. He had a blanket in there too which kept him warm on our Minnesota evening. We got stopped where ever we went, and our Facebook friends went nuts over pictures. Everyone said we should enter contests or start a craft business!

I'm so happy with our project, and most important, our son had a blast with his favorite characters.