There's a Monster Under my Bed Baby Costume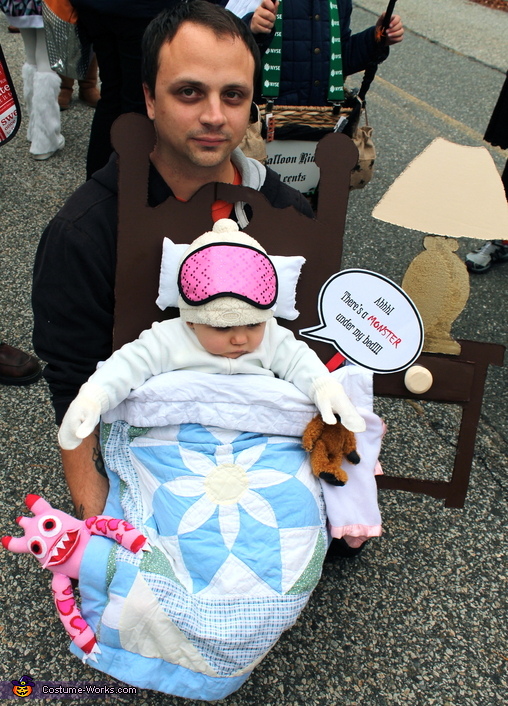 Ah! There's a Monster Under My Bed!
More views:
(click to enlarge)
A word from Joseph, the 'There's a Monster Under my Bed' costume creator:
My 9 month old daughter Alyvia is wearing this costume. My wife and I came up with this idea because we always call her our "little monster" and thought it would be really cute to make a costume about a monster.

How to instructions:

First I got a large piece of cardboard and drew out the bed's head board and the side table/lamp. I actually used a pumpkin carving knife to cut the pieces out! Then, I spray painted the cardboard pieces and added a knob to the drawer. Then I used a pillow case (as the blanket), which had an opening in the back (b/c its decorative) and glued it to the bed board so that there was an opening in the front for my daughter to get into. It's optional if you want to cut open the bottom end of the pillowcase. I did, but only because she was a little too tall for it. Then I cut open the side of the pillowcase (by the cardboard drawer) and added velcro to it (so she could get in and out of it easily). The I added an elastic through the back of the bed board to hold her inside of the costume. Then I added the teddy bear and blankie (glued it) to the blanket. Lastly, my wife sewed a pillow and also found directions online on how to make a "sock monster" and used a pair of old sock (completely) to make the monster shown in the picture! To finish off the look, we added an eye sleep mask on her head. This costume can work for young, non walking babies, such as my daughter (but you need to carry him/her), but would also work really well for walking children/adults!