The Wee Bagpiper Costume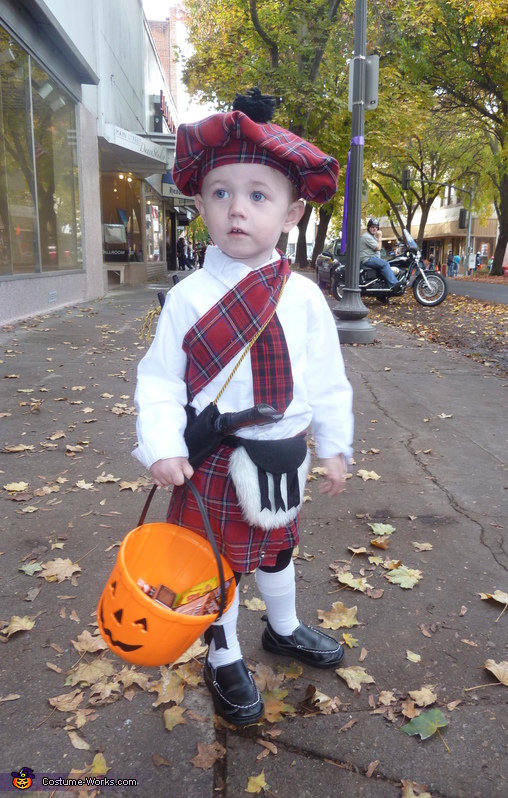 The Wee Bagpiper
More views:
(click to enlarge)
A word from Sarah, the 'The Wee Bagpiper' costume creator:
This is my 2 year old son Miles as the wee bagpiper. I got this idea when we were at the Halloween store and saw an adult bagpiper costume, and I could think of nothing cuter than a little tiny bagpiper! My mom helped me assemble the costume, and I also had some help from the Internet. (Turns out Miles isn't the first toddler to dress as a bagpiper for Halloween, and we got some helpful hints from www.jenspends.com.)

So here's how we did it. The bagpipes were made from felt, along with some plastic straws and a recorer that I purchased at the dollar store and painted black. I tied on the gold cording, and they were done! The kilt was a single piece of flannel, wrapped around him with velcro all along the top to make it easy-on, easy-off. I also added a few pleats in the back. Oh, and I found the kilt pin at Jon-Ann Fabrics. We altered the pattern for a childs bakers hat for the cap, and just made it about half as poofy. The sporran was made from some fur and felt my mom had laying around, and had velcro on the back, so it just stuck to the waistband of the kilt. I didn't have any black ribbon to decorate the socks and sporran, so I just grabbed a pack of stretchy hairbands while we were at the dollar store, and they worked perfectly. I glued them on with fabric glue. Finally, the sash was nothing more than a long strip of fabric stitched up with velcro on the ends. And then to top the whole thing off, we put a little digital recorder in Miles' candy bucket, playing bagpipe music as he marched down the street. It was a big hit!