The Old Horny Couple Costume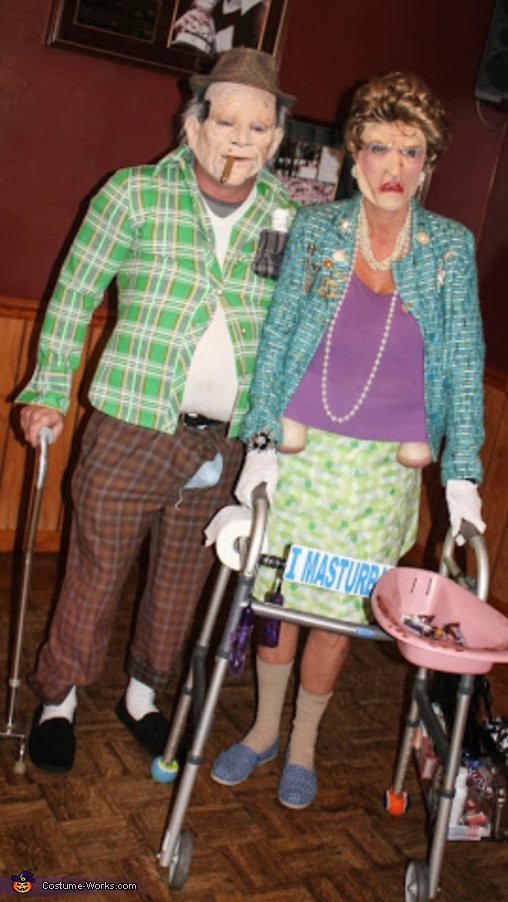 The Old Horny Couple
More views:
(click to enlarge)
A word from Lia, the 'The Old Horny Couple' costume creator:
I've never had so much fun putting a Halloween outfit together as much as I did this year. My oldest daughter hose a Halloween party every year (Barrington Boo Bash) this year her 30th birthday fell on Oct. 27th. So she decided to combine her 30th (Derrty 30) party with her boo bash. Well, old Mom finally gets an invite...with rules! The rule I had to follow: "Mom, do not wear anything revealing!" Great! Ok, fine that limits the outfits. My birthday don't bother me as much as hers, I feel old on her birthdays so my fiancÚ and I finally decided on THE OLD HORNY COUPLE!
Saggy Boobs: Place tow of panty hose over Styrofoam cups. Use pink fingernail polish to make nipples. Dry thoroughly. Stuff to your desired length. Stuff the hose under the bra, with the extra hose stuffed in your cups. Big Butt: Pillow case/stuff to your desire. Place a big rubber band in the middle giving it a two cheek look. Use 3x women's panties to fit entire pillow/butt in. Woman's Belly: Pillow case/stuff to your desire. skirt: I wore two skirts. One had elastic to hold in my pillow belly and to help hold in the pillow butt. Place the second skirt over the first. Woman's Mask: I could only find a man's mask so I applied my own make up. Jacket: I placed all my old pins on the jacket. Jewelry: I used my old jewelry. Pearl necklaces, clip on big pearl earrings. Hard On: Purchased hard on boxers. You will need to add spray foam to make hard on stand up. Pocket: Use an old shirt, cut pocket off and hot glue to old man's shirt. Viagra Bottle: Old medicine bottle, white labels, write Viagra on bottle. Hot glue bottle inside pocket, leaving it hanging out to see label. Bed Pan: Melt a small snickers and Hershey's bar, smear melted chocolate over the bed pan. Giving it a "dirty" look. Place Halloween candy in pan. We drilled holes in the pan and zip tied it to the walker. Walker: The bed pan as stated above, ad the I Masturbate sign with hot glue, unscrew the walker to place the toilet paper roll on the handle, dangle a real vibrator over the walker, use a plastic hook that fits secure on walker to hold the heavy bag. The Bag: Throw in what an old woman would have in her bag. I used tums, aspirin, gas-x, correctol, gum, lipstick, mirror, soap shaped like a penis, false teeth in a glass, playing cards, band aids, air freshener, Vaseline, hairbrush and of course a whiskey flask.
We ended the night with dancing to I'm Too Sexy!
We won the best costume contest.