The Little Red Ridding Hood Costume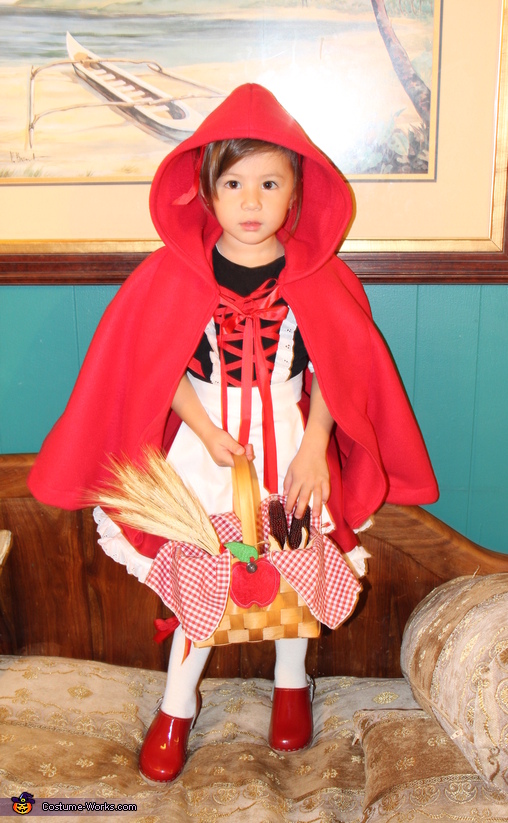 Soon after first completing the Little Red Riding Hood costume project
More views:
(click to enlarge)
A word from Wacharaporn, the 'The Little Red Ridding Hood' costume creator:
The Little Red Riding Hood by Wacharaporn Bierman
My daughter Elizabeth is wearing my interpretation of the classic costume from the children's fairytale "The Little Red Riding Hood". My inspiration came from many adaptations of this classic tale. I searched through illustrated children's books, artistic depictions of Little Red Riding Hood, and various other sources including Japanese animation & vintage German childrenís outfits.
After doing all of the research and coming up with my own variation I started fabric shopping that was suited to the weather in the area we live in. After several trips I decided to choose white & red colored cotton for the skirt, slip, and sleeves..and velvet for the vest. I used a red fleece material for the hood & cape because itís light weight and not too hot. I added red ribbon to adorn the black velvet vest, white cotton sleeves, and socks of this costume. I added eyelets along the slip (petticoat) and along the black velvet vest. The apron is made of white cotton with red ribbon trim running thru a white lace border. The under garment is made out of several layers of tulle material (like a tutu) to give more volume to the skirt. Using my daughter as the model for my costume I fishtail braided her hair with red ribbon & added a red ribbon headband. To complete the look of my costume I added a wicker style bread basket with gingham fabric liner filled with fresh cut flowers and harvest wheat & Indian corn. For the stocking I used white knee high socks and adorned them with red ribbon. I used red colored "Swedish Cape Clogs" brand shoes. The total cost invested into creating this costume was apx. $130 for the entire costume..head to toe. The time it took me to create this costume is about 2 days...of course with breaks, meals, and sleep in between.
I am very proud of my Little Red Riding Hood costume and just adore the way it looks on my daughter. Most importantly my daughter loves wearing the costume. This was such a gratifying and fun project!!