The Exorcist Regan Costume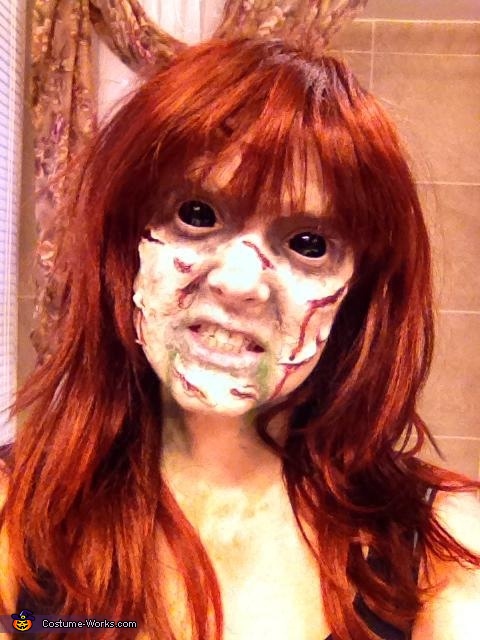 Regan from The Exorcist
More views:
(click to enlarge)
A word from Nicole, the 'The Exorcist Regan' costume creator:
Hello! I came up with this idea on the way home from a costume party last year and just had to give it a try. The total cost to make this costume was about $30 as I used a lot of things from around the house to construct the actual bed.
I used styrofoam and cardboard to make the baseboards of the bed, and wrapped them all in a tan coloured sheet to make them look like wooden panels. I sewed all the sides together to get the boxspring look. I used paper towel rolls covered in more sheet to get the bed posts. Then i sewed more sheet for the "bottom" of the bed, and stuffed some plastic bags and socks underneath a blanket to make it look like I would be laying down. I left a hole infront of the headboard so that I could stand through the entire contraption and fixed some straps from an old backpack onto the back of the headboard (you can't see it because I put the nightgown overtop of it ;). Then i did my makeup and threw on a wig, and tada! I also had an mp3 player attached to a small speaker and played the themesong to The Exorcist (on repeat). It really gave it a cool effect. And thats it! I won BEST OVERALL COSTUME at the same party I went to a year before that. It was totally exciting and well worth the time I took to make it.