The World Famous 23 lb Super Taco Costume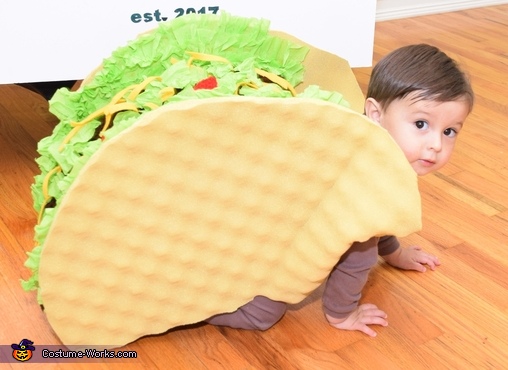 Taco Baby!
More views:
(click to enlarge)
A word from Nicole, the 'The World Famous 23 lb Super Taco' costume creator:
So little baby Greysen LOVES tacos (but who doesn't?!) and loves trucks so we converted his stroller into a taco truck! We used white foam board for the sides and painted cardboard for the front and back. We cut the truck out, used Velcro to adhere all 4 sides together, that way we could take it apart and put it in our car trunk to transport to different events. It was hung on the stroller with wire coat hanger. We hung a strand of hot pepper lights and drew on it with markers.
14 month old Baby boy Greysen was the World Famous 23 pound Super Taco! We used foam from a mattress topper and spray painted it a yellow taco color. I, (his mom) crocheted a brown blanket for the taco meat and used green crepe paper streamer for the lettuce, orange felt for the cheese and crocheted red squares for the tomatoes. He was so darn cute and everyone wanted to eat him up!
His costume seemed to be a huge hit everywhere we went! We had random strangers asking if they could take his photo and if they could buy a 23 lb Super taco!! They told us their mouths were watering at the sight of baby Taco! The neighbors all got a good laugh! Taco 'bout a fun costume, we enjoyed Halloween this year and we hope you did too!