The Powerpuff Girls Costume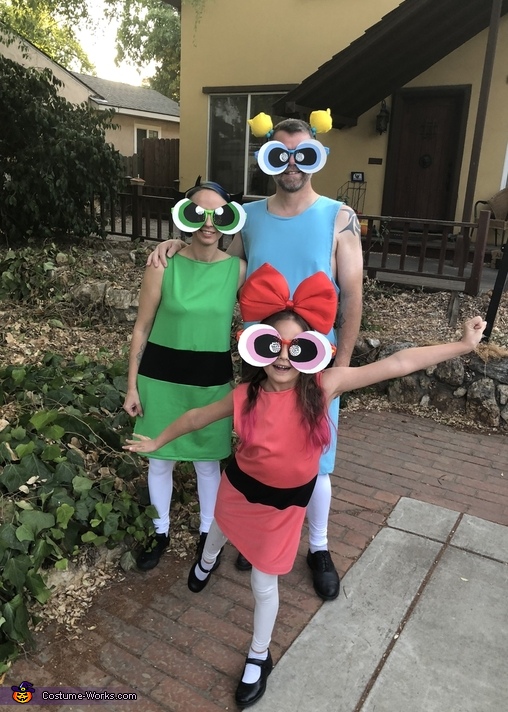 The Powerpuff Girls!
More views:
(click to enlarge)
A word from Sarah, the 'The Powerpuff Girls' costume creator:
My 7 year old daughter is absolutely obsessed with Powerpuff Girls this year. So naturally she wanted to be one for Halloween. One night at the dinner table she asked her dad if he would be the Bubbles to her Blossom with a giggle. I don't think she was expecting a yes. Much to both our surprise, he said that if mom (me), made him a Bubbles costume, he'd wear it. It was on at that moment! And of course left me being Buttercup. So I went down to the fabric store and bought some yards of their best Powerpuff pink, blue and green and got to work. I sewed all 3 dresses. Purchased the leggings, and crafted all accessories. The Bubbles pigtails are hard foam balls covered in fabric, and banded to a headband. The Blossom bow is soft foam covered in fabric and hot-glued to a headband. The Buttercup headband was made by dad with his 3-D printer. For the eyes, I purchased those giant novelty sunglasses. I then measured and cut out thin cardboard to cover the glasses. Then I painted the cardboard and took a hole punch to punch several small holes to act as a mesh that can be seen through. Then my husband hot-glued them onto the novelty glasses after we popped all the lens out. We were a hit! We heard several people exclaim "Look! Powerpuff Girls" and had many people wanting our picture. My daughter was thrilled to be recognized as Blossom all night. Pictured is myself as Buttercup, Adalyn as Blossom, and Kaleb as Bubbles.