The Popcorn Family Costume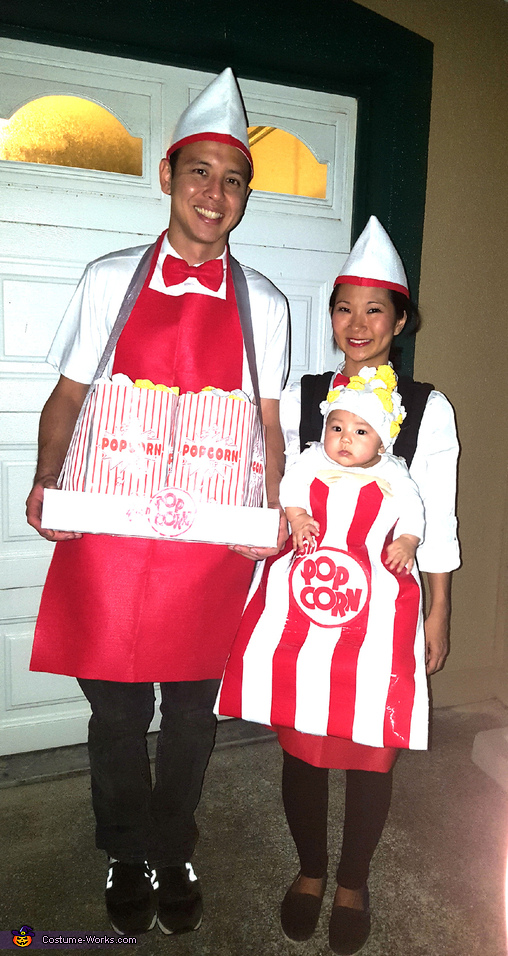 The Popcorn Family Costume
A word from Nicki, the 'The Popcorn Family' costume creator:
Halloween 2016 was a special occasion for our family; it was the first we were able to celebrate as a family of three. It was important to make our first Halloween together one to remember, which meant family costumes! Our three month old son loves being in his carrier, so whatever costume theme we decided on, it needed to integrate the carrier.

Not only do my husband and I love snacking on popcorn, but our first date was to the movies, where we indeed snacked on some popcorn while watching the movie, "The Vow." Dressing up as "The Popcorn Family" was the perfect theme for us, as we could reminisce about our first date as boyfriend/girlfriend, and now, we could also include our new bundle of joy into our love story. I knew that making the costumes myself would make this Halloween even more special for our little family.

My husband and I are dressed as popcorn vendors, and our son is dressed as an adorable bag of popcorn. I used felt to make most of the pieces, including our white hats, red neck bows, red aprons, and my son's popcorn bag. The red stripes on my son's popcorn bag is duct tape. The pieces of popcorn in my husband's bags (they are real popcorn bags!) and on my son's head are made out of yellow and white tissue paper.

On Halloween night, my family and I went trick-or-treating in our neighborhood and enjoyed showing off our little "Popcorn Family," while being amused by all the other fun costumes that surrounded us! All in all, Halloween 2016 was definitely "one for the books!" Thank you for the opportunity to share our "Popcorn Family."