The Nurse (Dead by Daylight) Costume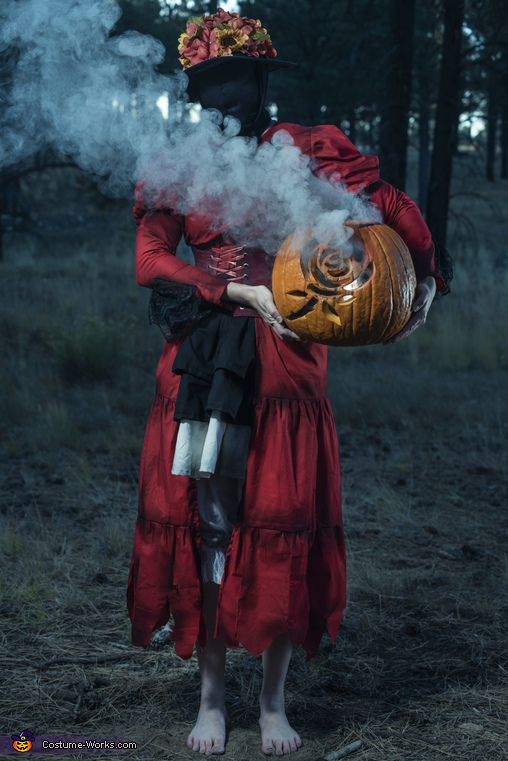 Vicious Victorian
More views:
(click to enlarge)
A word from Courtney, the 'The Nurse' costume creator:
I made this costume based on a character from a video game called "Dead By Daylight." The character is a former nurse at a mental asylum who is cursed in the afterlife to sacrifice people to an entity that feeds on hope. Sort of like a limbo that constantly repeats itself for eternity.
I made it on a tight budget. Almost everything is made of cotton. I used a clothing hanger to make a wire frame for the hat and covered that in a stretchy knit material. Then I used fleece for the dome measured to the circumference of my head. I hot glued artificial flowers over the hat to cover the fabric. I used the same material I used for the hat to cover the face so I could see through it.
As for the dress, it is a simple pattern I made from an old shirt that I cut apart. The skirt is long rectangles, each layer cut twice as long as the layer above so I could gather the material with each seam. The three black and white underskirts are circle skirts. The bloomers I made off a pattern from an old pair of pants and has an elastic waistband. The corset I patterned out myself off of a corest I made years ago. The staining on the dress is made from paint and eye shadow, which I applied to the seams to give the illusion of age or weathering.
The saw is made of foam, which I stuck on either side of a cardboard pattern I cut out. The rose is also foam and the designs are made with hot glue. All together, I think I spent about $45 on this costume.
Lastly, I carved a rose into a pumpkin. It was my first time carving a pumpkin and I have decided it is kind of gross and I probably won't be doing that again any time soon haha.
As for the photos, my boyfriend took them at a very early morning hour so the lighting was blue. We took them while I was jumping up and down so we could make it look like I was floating since the nurse floats in the game instead of walks. It was freezing! But I was having a lot of fun so it was all good.