The Mayor and Oogie Boogie Costume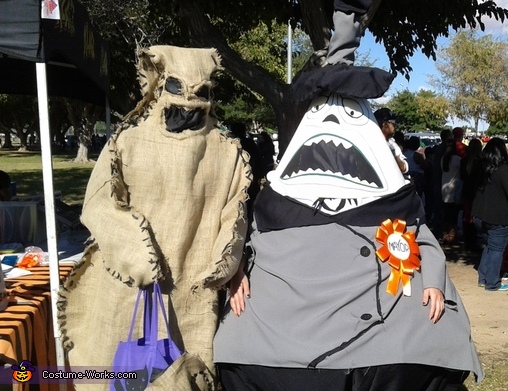 The Mayor and Oogie Boogie Costume
More views:
(click to enlarge)
A word from Irving, the 'The Mayor and Oogie Boogie' costume creator:
Hello I'm Irvin, and my partner for the costumes is Izcalli. We are more then just costume partners we have been dating for about two years and so far in our second Halloween dating each other we disided to join the El pasos KLAQ Halloween parade. This year to top off the maitlands from Beetle juice we disided to pick another Tim Burton classic; The nightmare before christmas. So with her creative ideas and my "handyman skills" we went with the Mayor of Halloween town and oogie bogie. With a month and a half of a deadline till Halloween we got to it. If you look at her and me she's about 90 pounds lighter and a foot shorter so we went with me being oogie bogie and she being the mayor. The way we decided this is because the mayor is shorter then oogie. So how do we make a short 4,11 pattiet girl look so big. We simple we made a shell of PVC and chicken wire and I was a sack of potatoes. This is the link to the how to video we made for simple explanations https://db.tt/biWhyjaP so in total with the fabric and material turned up to about 150$ or less. So we entered the parade and walked. As we walked the parade people from all over the parade asked to take pictures with us. From little kids to parents and grandparents we were the stars of the show. When it came to the judging we didn't win anything. It turns out we wernt entered and judged like everyone els. It was sad, disappointed we headed home and hanged them up. We know we didn't win first, second or third but we won the smiles of every single child and teens. We know our time money and effort wasn't waisted and we are glad to do it all over again.

The video will explain most of the materials, everything was hand and machine sowed from the pants to the very exact top tall hat created.