The Mad Tea Party Costume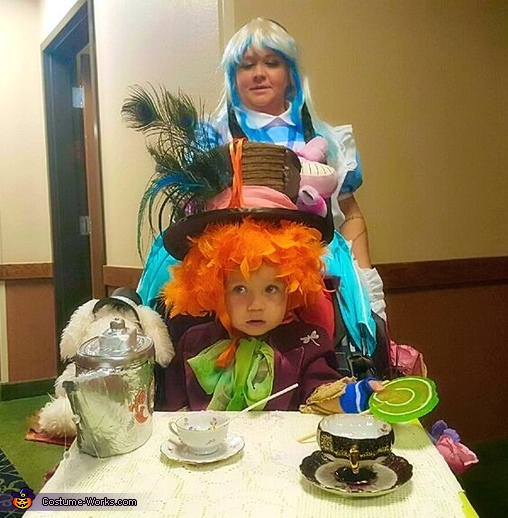 Front
More views:
(click to enlarge)
A word from Shawna, the 'The Mad Tea Party' costume creator:
Most Creative
Mad Hatter-Mickey(My son)
Card Guard,6 of Spades-Keegan(My nephew)
Card Guard,7 of Spades-Breyden(My nephew)
Alice-Myself
I came up with the idea from the fact that I wanted to create a costume for my young son where he could walk around but also sit in his stroller (when he gets tired).My nephews also wanted to be a part of this.
I also took ideas from the movie Alice in Wonderland (Johnny Depp's character Mad Hatter) and from the cartoon Alice in Wonderland to come up with the....
The Mad Tea Party!
The Tea Party Cart:
I used cardboard boxes, artificial flowers, different kinds of fabric, spray paint, glue, and tape.
To make the cart I wrapped my son's stroller with cardboard boxes, I cut them up to fit around it. I then spray painted the cardboard parts black, then glued different types of artificial flowers/grass all around it. I draped a lime green vinyl cloth and a lace doily on top, for the table. I glued two vintage teacup with saucers on the table. On one side I put a stuffed white rabbit in a top hat, holding a pocket watch. On the top of the stroller I had a animated Cheshire cat. The cat would talk and the eyes would move. I added a lot of little details such as butterflies and bugs.
I also made a teapot/rattle out a baby formula tub. At one side I put cardboard to form a spout and at the other end I glued a metal handle. I then spray painted it silver and added stickers on it for a design. I put plastic baby food caps inside, to make a rattle. This kept my son entertained.
The Mad Hatter:
I used a old lamp shade, vintage kids clothes, ribbons, feathers, beads, different kinds of fabric, cardboard, glue, and tape.
For the Hat used a lamp shade and cardboard. I first cut cardboard for a brim, I then covered it with brown fabric. Then I sewed different kinds of fabric around the lamp shade. I cut a circle out of cardboard, covered it with brown fabric for the top of the hat. I made a few hat pins with different kinds of beads and made a tag saying 10/6 out of paper (I burned the tag to make it look old), then glued them to the side of the hat. On the other side of the hat I glued different types of peacock feathers. I then wrapped the hat with a sheer peach band. This was made out of sheer fabric. I glued a baseball hat under the hat,so it would stay on better. Then I covered it with orange feathers to look like hair.
I took a kids vintage suit jacket and shorten the sleeves, then added lace cuffs. I added patches and a pin with different kinds of ribbons hanging from it. I shorten the pants and added striped leggings. I sewed a design in one leg of the pants. I made a sash out of travel size spools of tread and he wore a lime green scarf as a bow tie.
The Card Guards:
I used cardboard, paint, ribbon, tape, mop handles, and plastic funnels.
I took four large pieces of cardboard and cut them into the shape of a playing card. On two pieces I drew out a 6 of Spades and a 7 of Spades design, then painted them. On the other two pieces I cut out some decorative contact paper to make a design. They both wore black shirts, pants, gloves, and hoods.
To make a lance pole, I took a mop handle and put a large funnel on one end. On the other end I drew and cut out a large Spade symbol, then glued it.
Alice:
I wore a blue dress with a white apron. I also wore a key necklace on a ribbon. I carried a perfume bottle with a "Drink Me" tag and a ornament with a cupcake in a dome with a tag saying "Eat Me". I made the tags from paper and stickers.
The cost to create all the costumes and tea party cart was around $100.(or less).