The Libyans from Back to the Future Costume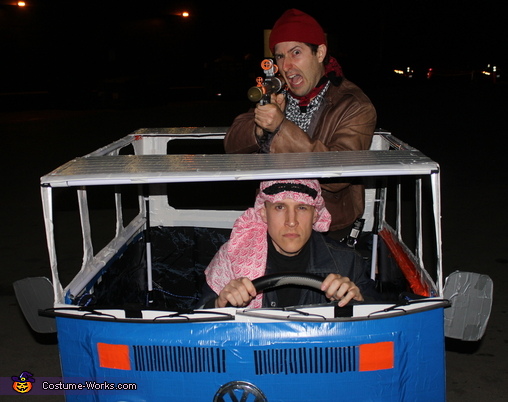 In character
More views:
(click to enlarge)
A word from Ian, the 'The Libyans from Back to the Future' costume creator:
Every year my friend Andy and I like to make an elaborate Halloween costume and wear it to the West Hollywood Halloween Carnival. It is usually movie themed and we try to do something that has never been done before, most of the time including a vehicle or an inanimate object. This year we had a few ideas, but being this is the 30th anniversary of Back to the Future I was watching the movie on Back to the Future Day and as soon as I saw the blue Volkswagen van, I knew that was it. It was a perfect idea. We were positive no one had ever done that before.

Our usual supplies are cardboard and colored duct tape. Also anything else from the dollar store or thrift stores to help with support and small details. We are both sticklers for detail so we try to make it as close of a replica as we can. We got boxes to build the frame, cut out the windows and began taping the outside with the proper colors. We wanted it to be mobile and being one of us would be sitting(driving) while the other standing out of the sun roof we decided an office chair on wheels (which we found on the side of the road) would work. We added two small wheels to the back of the van and a bar across the lap of the chair and the person standing would just push the chair while walking behind and the vehicle would move. After making bumpers and a roof out of remaining cardboard, we added a steering wheel, wiper blades, side mirrors, a VW logo and the best part, working lights! A few details to the van using different colored tape and the van was complete. We pieced together our outfits from stuff we had and things we got from thrift shops to get as close to what the characters wore.