The Lego Movie Family Costume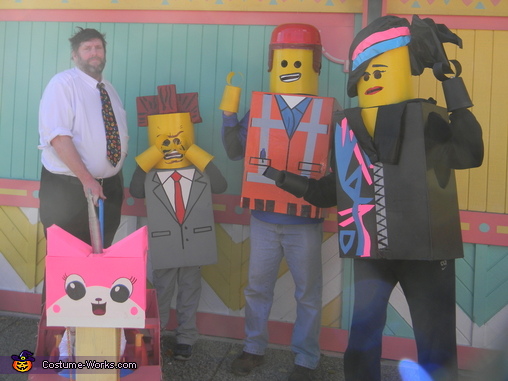 The Lego Movie - Lego Lambdins
More views:
(click to enlarge)
A word from Rebekah, the 'The Lego Movie Family' costume creator:
This is my family dressed up as the Lego Movie characters. My 7 year old son loved the movie and wanted to be Lord Business for Halloween. My husband (Emmet), My daughter (Princess Unikitty) and I (Wyldstyle) all got in on the idea too. My son was a little disappointed that I said I couldn't do Lord Business (stilts and a huge headpiece would be too much for him to wear!), but he was thrilled with an angry President Business!

I used the internet to search for ideas of lego costumes and saw several images I thought I could make. My dad, a major part of the construction of these costumes (and a pretty handy guy in general) knew about the circular tubing we could use to build the heads! The bodies are cardboard boxes, paint, poster board cut outs, duck tape and imagination! The hair was tough. The boys are made out of different packaging foams cut and painted The girl's hair is a black table cloth over a plastic bowl! Emmet's hat is the same plastic bowl, painted red. The hands are made of Chinese food soup containers, cut and spray painted and held together by zip ties.

Princess Unikitty was the toughest. My daughter is only 20 months, so she wasn't going to wear anything uncomfortable. We had a car stroller and my dad built a wood box that fits over it. We painted it pink and attached wooden legs, a head and a tail (painted boxes). I drew the face on poster board and fit it over the boxes.

My brother and his wife started helping with the building, even though they hadn't seen the movie. One night, they decided to watch it. Afterwards, my brother (in the shirt and tie in the picture) decided he wanted to join in as "The Man Upstairs" from the movie!