The Joker and Harley Quinn Costume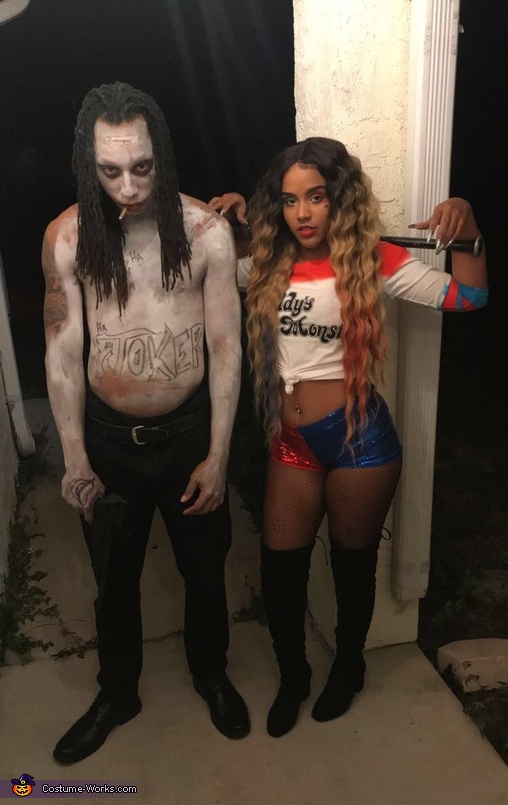 We're not going to kill you, but we're going to make you hurt really, really bad.
More views:
(click to enlarge)
A word from Jaslyn, the 'The Joker and Harley Quinn' costume creator:
Me and my significant other are wearing the costumes. The idea for these costumes came from suicide squad, I enjoyed watching Harley and the Jokers chemistry it was very unique and entertaining. For Harley Quinn her costume was bought (fish net leggings, Harley's hot pants, Daddy's little Moster logo shirt, thigh high boots, make up pallets, replicas of her removable tattoos,two bottles of blue/red hair spray, and a blonde wig). Harley Quinn's make up look is very important, when your applying the eyeshadow and lip stick you have to make sure that it's alittle smeared from her fighting and killing. Now, for the joker look it was more home made. To put this costume together we had to buy ( slacks, a fake gun, green hair spray, white skin paste, a make up pallet, a black wax paint crayon, red lipstick, dress shoes, and temporary joker tattoos). I painted his body all white, applied the dark circles of his eyes, applied some temporary tattoos and drew on the rest, what pulled this joker look all together is the red large smile we painted on. We wanted to put our own spice to these costumes since we are bi-racial i found the opportunity to take the challenge.