The Greatest ShowFAM Costume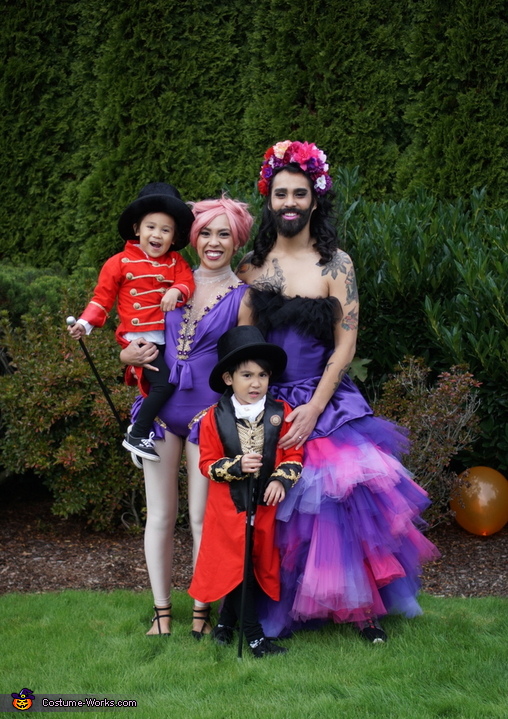 The Greatest ShowFAM
More views:
(click to enlarge)
A word from Cherry, the 'The Greatest Show' costume creator:
Our family costumes include our two son's as Hugh Jackman and Zac Efron as the ring masters, me as Zendeya in her Trapeze outfit my husband as the Bearded Lady: Keala Settle.

My boys love The Greatest Showman, to the point where we have the soundtrack in the car and the movie. Our littlest one, goes around singing Baaahhaahh (tap tap) from the entrance song. So naturally our boys wanted to be the characters from the movie for halloween.

I decided that I would make our costumes instead of purchasing them, because it was hard to find costumes in the first place and I believe Etsy was charging a bunch. So I started looking up pictures of each character and basically finding all the material that would go along with each costume. Several different visits to different Joann Fabrics, Hobby Lobby, Michaeals and Walmart. I measured my boys and started dissecting my husbands old coats to figure out how to make them. This sewing project started back in August because I'm in nursing school and work part time so getting these costumes done by October was a must. I had to hand sew all the tool on my husband's dress and finish decorating the coats along the way. By the end of three costumes I almost gave up on mine, because working with stretchy material was not fun, as I had to sew while wearing the material on myself. Even getting ready for halloween was a lot of work as I had to style my own wig along with doing my husbands hair and makeup. All in all, I am very proud of these costumes and my kids had such a great time! My husband made their sticks and his flower head piece to go along with it.

Excited to see what You all think of our family costumes! Also I may add that people who are costume designers and fashion designers or seamstress are AMAZING people because this took a lot of work and I only have the bare minimum of sewing abilities.

Thanks for listening (reading) about our costumes!

Our boys ended up having such a great time! And their dad was such a trooper wearing a dress, petty coat and makeup! Yes that's his real hair that I curled haha!