The Great GASPy Costume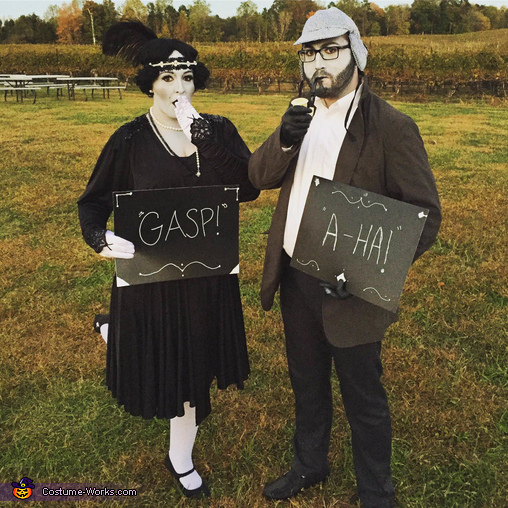 The Great GASPy
More views:
(click to enlarge)
A word from Courtney, the 'The Great GASPy' costume creator:
This year, our friends planned a 1920s murder mystery dinner for Halloween. As a dress up super fan, I wanted to create a costume that stood out from the crowd of Great Gatsby lookalikes. I started researching the cultural significance of the 20s and the various aspects of society back then. As I was doing my research, it struck me that every iconic picture from the 20s was black and white. I decided I couldn't possibly be more 1920s than if I went in grayscale. Taking this idea a step further, I thought it would be fun to go as a silent film star. With my decision made, I convinced my best friend to go along with the idea. And thus, two stars were born.

Our Great GASPy costumes were created mostly from thrift store items. With an eye for black, white, and grey, we spent weekends combing the aisles for the perfect 1920s style. Top tip: It's important to buy multiple shades of black/white/gray to achieve a more realistic effect. Black and white film stars are not only portrayed in shades of black and white. Our faces were done up with a light gray base and multiple tones of black and dark gray shading. I made my headpiece with items I bought from a local craft store. Our silent film signs were created from chalkboard placemats. The chalkboard allowed us to change our phrases throughout the night. A very fun touch!

We couldn't walk anywhere without someone stopping us to ask for a picture. We had so much fun miming our reactions and replying with phrases on our chalkboard movie signs. A highlight of the night was maintaining our silent characters throughout the entirety of a costume contest at a local bar. My favorite comment was "You look like you just stepped out of a black and white movie!" What a compliment!

When my mom showed my grandma the group picture I submitted, she inquired as to why my friend and I weren't showing up in color. That's when I knew we had truly nailed our costume! We confused my grandma to the point where she thought we had photo-shopped ourselves! In my book, that's a gold star in costume execution.