The Goddess Isis Costume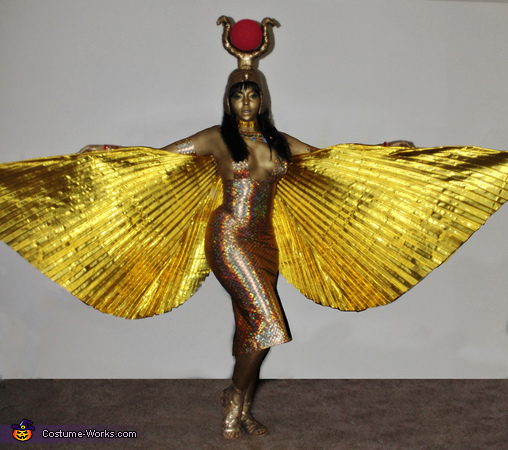 The Goddess Isis
More views:
(click to enlarge)
A word from Shawna, the 'The Goddess Isis' costume creator:
I'm wearing a costume I thought of years ago and finally brought to life.....THE GODDESS ISIS. People always do Nefertiti or Cleopatra. Well, i wanted to do one that rarely gets done, and do it RIGHT!
-I made the dress, wrist and arm bands and the entire headdress . I customized the wings , purchased the necklace from Egypt (from eBay) and also the gold sandals (from eBay).
- I decided to mix the many different looks of ISIS all in one.
BODY -I painted my body GOLD by using Graftobian - Gold Powder and Mixing Liquid (I used only 1 gold powder jar, and not even the whole thing, but i DID use 2 of the little bottles of mixing liquid) So I suggest getting extra mixing liquid since it only comes with 1 . and sprayed my body with Graftobian Makeup setting spray to extend the durability of the paint.
HAIR- I cut a black wig with bangs and added a few braids/twists.
HEADDRESS- I sculpted the base of the headdress by using 2 types of clay ( lightweight air-dry foam clay and air dry crayola clay). I used the foam clay in BLACK for the front section, to shape the vulture and wings, the used the other clay in back (wetting it helped stick them together. I painted it all gold. I then used a piece of cardboard, newspaper and tape to shape and form the cow horns (horn making method I found on YouTube). after making that, i painted it gold. I used a large Styrofoam ball from Micheal's for the solar disc and painted it red. used a hot glue gun to stick all these pieces together. then decorated as desired. I added an elastic strap with hot glue to keep it on my head (hidden of coarse)
The Dress- I made the dress out of metallic gold scale like fabric (about 1 yard). I added a split in back so it would be easier to walk and kneel down to do the famous ISIS pose.
Arm/Wrist Pieces- I just used some of the left over fabric to construct these pieces and added Velcro to each piece for closure, I added red ribbon fabric to the hems of the wrist bands.
The Wings- I ordered the wings from eBay (took like 22 days to arrive) and added wooden sticks inside (from Michael's) to hold the wings steady. I also customized how i wanted the wings to look by cutting them down like ISIS' wings. They were floor length before.
The Necklace - I ordered the necklace from an Egyptian store on eBay.
The Shoes- I ordered gold sandals that looked gladiator like and it went PERFECT!
OVERALL COST : ABOUT $150
Did I miss anything ????
It took alot of hard work and patience but not only was I very pleased with my costume, EVERYONE who saw me LOVED it and wanted to take pictures ALL NIGHT!