The Giving Tree Costume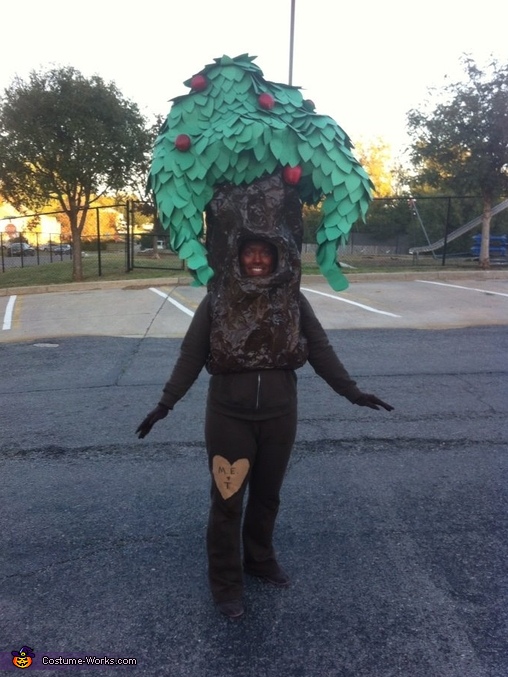 The finished product!
More views:
(click to enlarge)
A word from Heather, the 'The Giving Tree' costume creator:
My eight-year-old daughter had to dress up as her favorite literary character for school, so when I was tossing around ideas for Halloween costumes my favorite childhood book, The Giving Tree, popped into my head. It took some trial and error, but I found the lightest materials in newspaper, a lot of brown packing tape (I used about a dozen rolls, so buy in bulk!), and a few wooden dowel rods (I used seven). First, I used my husband (a good-sized man compared to my smaller frame) to build my base around. Using an old cardboard box I cut up, I created a solid round base at the top with the dowel rods and packing tape. Then, I had my husband hold the base as I wrapped the packing tape sticky side out around him until about my waist height (to allow me to move freely). I then slapped some newspaper on the sticky side and wrapped more packing tape over that sticky side in. After my base was created (making sure to leave holes for arms and face), I used crumpled newspaper and more tape to establish the bark-like texture on the base. I also used newspaper and tape on the top part for my base but real branches could also be used. I decided to spray paint my base, but the light-brown packing tape could work alone for a tree appearance. Lastly, I spent about 4 hours of my total 12 hours of work time in hot-gluing the green construction paper leaves I cut out. Add some fake apples and there you go! Total cost was about $40 and most of that was the tape (which you should get online, if possible). The greatest part of the reactions I received was that people didn't immediately guess The Giving Tree, even with the "carved" heart I created with brown felt on the leg of my cheap sweatsuit. Some guessed the apple trees from the Wizard of Oz, some the Tree of Life, and some from random cartoons or shows they watched as children. But, everyone had their own association that made their face light up with wonder. For that alone, it was worth the time and effort. And, naturally, my husband dressed as a lumberjack!