The Evil Minion Costume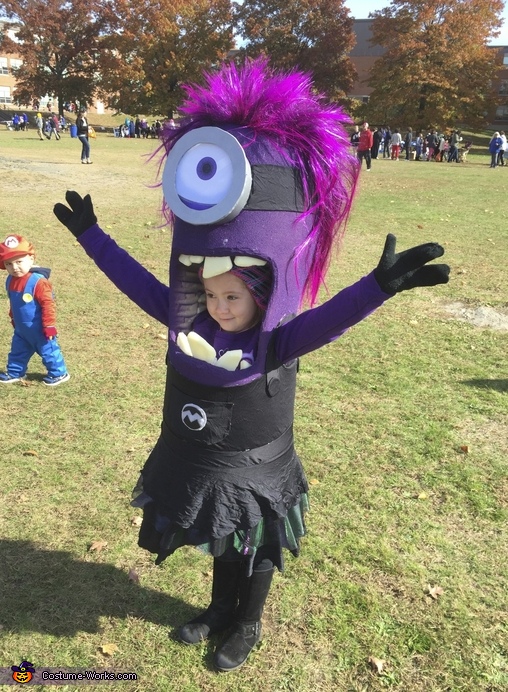 The Evil Minion Costume
More views:
(click to enlarge)
A word from Samantha, the 'The Evil Minion' costume creator:
"I want to be a purple minion!!" So, I started to brainstorm with a few things. I had found lots of tutorials of other people making them out of garbage cans, cardboard, and foam. This had to be as light as possible for a little six year old, so i opted for a foam mattress pad. Once i got the basic shape and cut out the opening, it was time for some purple spray paint. Then it was time to make the eye goggle. I grabbed some cereal box cardboard to get the circle and some foam board to make the rim. I purchased a purple wig that fit the crazy hair the evil minions have and glued that on top. I made the teeth out of leftover mattress pad; the good thing here is that they don't have to be perfect!

After that was said and done, it was time to make the dress. A simple circle skirt with the Macho logo. The final touch is three fingered gloves made from an old pair of stretchy gloves. This costume came well under the $50 mark. Also, I must be honest, hot glue was my best friend here.