The Energizer Bunny Costume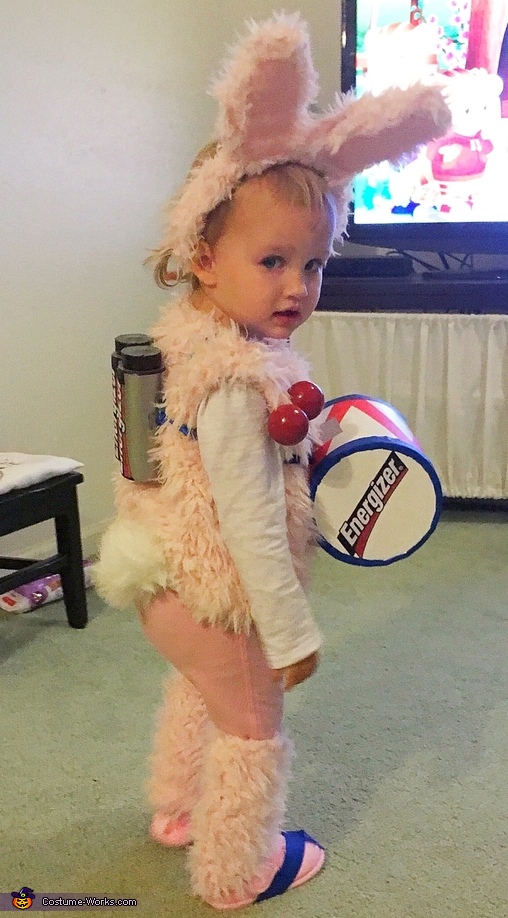 The Energizer Bunny Costume
More views:
(click to enlarge)
A word from Misty, the 'The Energizer Bunny' costume creator:
My daughter, Madilyn is a 1 1/2 year old ball of energy and one of her favorite phrases is "Go! Go! Go!" She is a real energizer bunny at heart and we knew the costume would be the perfect fit for her personality! I spent weeks working on her costume and this is what I used:
For the drum: I used a plastic tub that bath toys came in and spray painted it white. I cut a hole in the top so that she could put her candy in it (I knew with so many accessories she wouldn't be able to also handle a treat bag) I printed off the energizer logos and glued them to each side. I used red and blue painters tape for the designs and added blue ribbon that she could put her arms through.
For the drum sticks: I painted ping pong balls red and glued them onto wooden dowels that I had painted white.
For the battery pack: I used condiment bottles. I cut the tips off and duct taped the holes, spray painted them silver, added the energizer logos, and painted in the black detail. I also used a label maker to add the "+|AA" detail. I the. Glued them together and glued/duct taped a ribbon to the back that I had added Velcro to. I was then able to loop and Velcro the batteries around the straps of the drum so that they held each other in place.
For the shoes: I used painters tape over house shoes to create the look of flip flops on bunny feet.
For the bunny look: I found the perfect fuzzy vest and bought an extra that I used to make the leg warmers (sewn with elastic in the top) and the ears (used old bunny ears and just hot glued the matching fabric on) I also made mittens, but it was too warm to wear them.