The Donate Life Family Costume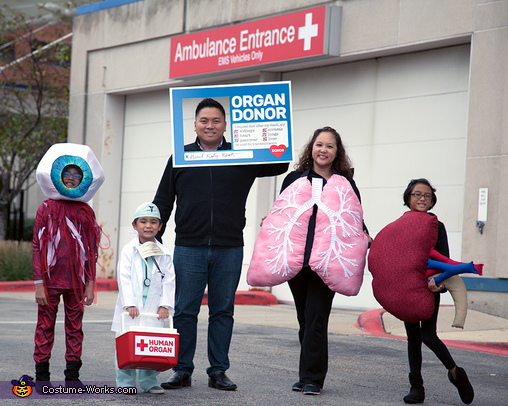 donate life family
More views:
(click to enlarge)
A word from Marcel, the 'The Donate Life Family' costume creator:
We were inspired after watching a YouTube commercial regarding organ donor registration.

To spread the message, we decided to dress up as a family. Dad is the registered organ donor with his Donor Card. The card was DIY and was inspired by many examples of real donor cards.

The youngest was the doctor. The doctor costume is a simple store-bought one, but we added a red cooler with the label HUMAN ORGAN on the side to complete his look.

The females of the family dressed up as organs. We knew a heart would be good, but it was super hard to DIY. This meant the Kidney and the Lungs were made instead using material, stuffing, and sewing. We chose to make them anatomical versus cartoony. This matched the eyeball, which was store bought. Corneas are very common donations used for transplantation.

The awesome part was that our costume was shared by the National Kidney Foundation and Donate Life America. It racked up 10K likes and 3K shares in one day and helped spread the message that we were inspired by.