The Demon / Gene Simmons Costume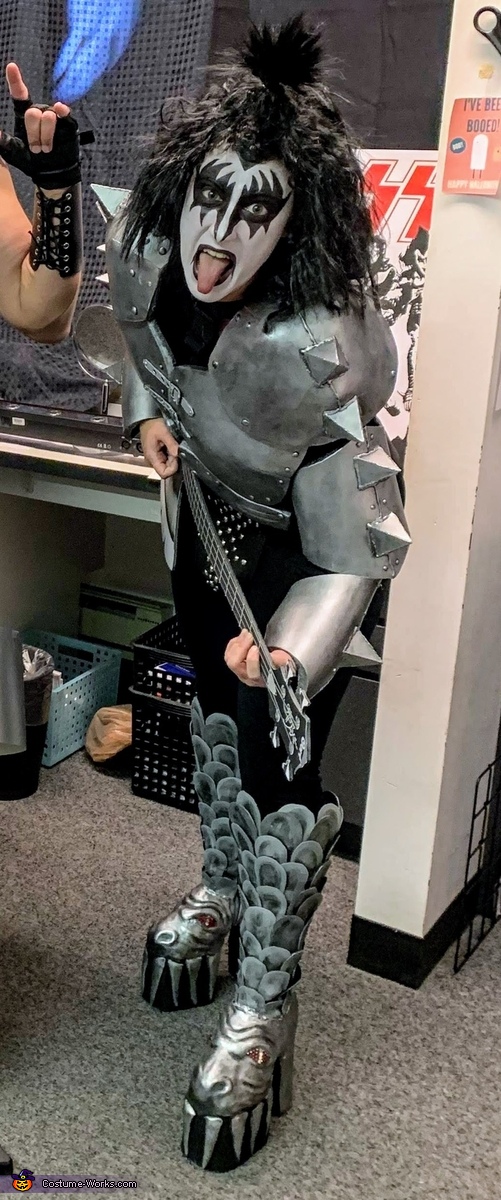 The Demon / Gene Simmons Costume
More views:
(click to enlarge)
A word from Sara, the 'The Demon / Gene Simmons' costume creator:
Every year at work we have a Halloween costume contest. Each department is encouraged to participate in a group theme. When a co-worker and huge KISS fan suggested we pay tribute the band I knew right away I HAD to be Gene Simmons A.K.A The Demon!

The Demon Boots:
I started with a pair of heeled women's riding boots I picked up at the thrift store. At a 5'2" I'm by far the shortest person in the department but in order to keep the proportions right I only added about another 4" to the boots using high density polyurethane foam. I cut the foam using a jigsaw and adhered it to the bottom of the boots using Gorilla Glue Construction Glue. Once the glue had dried I used 2mm, black EVA foam to cover the platforms before sculpting the details. The faces, teeth and spikes are sculpted by hand out of Foam-mo foam clay. After the clay air dried for 48 hours I sprayed with 2 coats of black Plasti Dip to seal the foam and left it to dry. I then applied layered silver Folk Art Acrylic paint and black as needed to add depth. Red rhinestones were added for the eyes using hot melt glue. The scales were cut out of 2mm black EVA foam and hand painted with silver paint before being glued in layers to the boot shafts.

The Armor:
After creating paper templates I cut the individual pieces from thick EVA foam. I used .5" foam exercise mats to create the bulky appearance. All seams and compound parts were glued together using contact cement and blasted with a heat gun to help seal and form the foam. I used a rotary tool to add details to the armor including the "rib" indents. Each piece was sealed with 3 coats of Plasti-Dip. The spikes were created using Bristol board scored and folded into a pyramid shape. The spikes were glued to the armor using hot melt. Hot melt was also used to achieve rivet and seam details to mimic the appearance of welded metal. After another coat of Plasti-Dip to cover the white spikes the armor was painted with several layers of Folk Art Acrylic Paint. Other details such as straps were created using 2mm EVA foam. All armor pieces were attached to an old Go-Pro chest harness using floral wire, hot melt and strips of EVA foam.
The codpiece was crafted from black 2mm foam and individual dome studs and was laced in the back. Makeup used was Mehron Clown White and Ben Nye Black face paint. The wig was purchased and styled in the Gene Simmons top ponytail.
Halloween was an absolute blast! Everyone kept asking where I bought my boots and armor. I had so much fun making this costume. The funniest part was even though I was wearing 8" + boots I was still shorter than most of the department! I hope I get to wear them again – they are actually kind of comfortable.
I really hope you enjoyed my costume! Rock on!
https://www.instagram.com/sczukal/