The Creepy Clown Couple Costume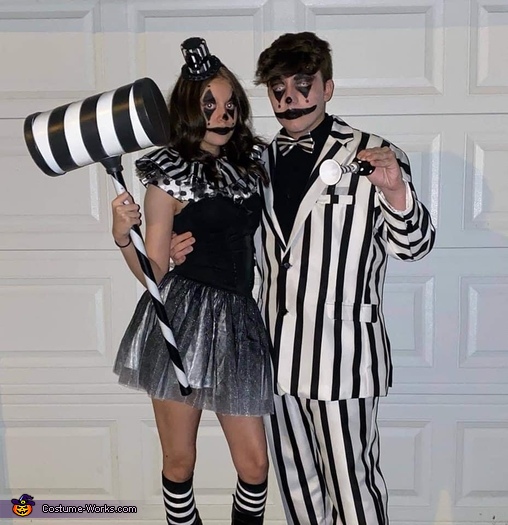 Come down and see the clowns.
More views:
(click to enlarge)
A word from Aaron and Alayna, the 'The Creepy Clown Couple' costume creators:
These couple costumes are worn by my girlfriend (Alayna Smart) and I (Aaron Connolly). This idea came from us going to one of our favorite stores, Spirit Halloween. Once we got inside we saw a black and white striped hammer and this led to our idea. We love those colors. My favorite color is black and my girlfriend has a favorite color of white. We had to put these together! The stripes give off amazing illusions as well! Almost all of the items that we have on are altered in some way to give off the appearance that they do in order to pull the look together. All of our items were originally bought from Spirit Halloween, We found each item in a different area of the store. We got the corset, the tutu, the striped socks, the mini top hat, the full striped suit, the makeup, and the props (the hammer and the horn). The top hat had originally been black. We altered it using paint and tape to make it have black and white stripes and also removed some material from it. The Corset had the straps on wrong and they did not fit either so they were removed and put back on correctly. My suit was extremely large and had to be sewn. The waist had to be smaller, and there was another button added in order to make it tighter. The legs and the arms of the suit were sewn to be shorter. The clown collar on Alayna is homemade from a small business on an Etsy shop. I absolutely loved this. This pulled together the look! For the makeup we bought black cream paint. We traced triangles above and below our eyes with eyeliner in order to get the look we wanted. We then filled in the sections with the cream makeup. We did the same with the mouth once we outlined the mouths the way that we wanted. We then put in white contacts that we have had for a while. These contacts were bought on amazon. The look was complete. It turned out way better than originally expected.