The Cannibalistic Wendigo Costume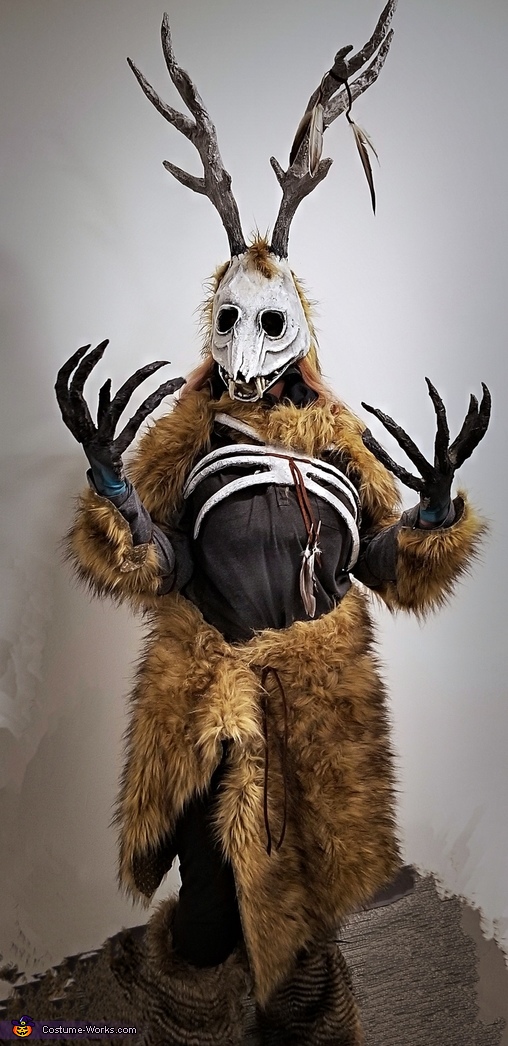 The Cannibalistic Wendigo Costume
More views:
(click to enlarge)
A word from Susan, the 'The Cannibalistic Wendigo' costume creator:
Native American Wendigo -
We were planning a family scare this year for my grandkids since trick or treating was not a for sure thing in our area. We found an area where there used to be houses but had been cleared, only streets remained. We set up an area with skulls and native American looking staffs that we made.
We told the kids the story of the Wendigo........ and at the end of the haunt they got to meet him. It scared all of them, ages 4 to 15.
Hand made mask, antlers, ribcage, elongated fingers using wire, cardboard with aluminum foil over the top to shape them, then covered with wrapping masking tape. Then I covered them with liquid latex and painted them.
Furs are sewn and laces over top to give it the native look, added feathers. - worn by myself in this photo (Photo taken at work the day before the haunt - I had to wear it).