The Candy Land Crew Costume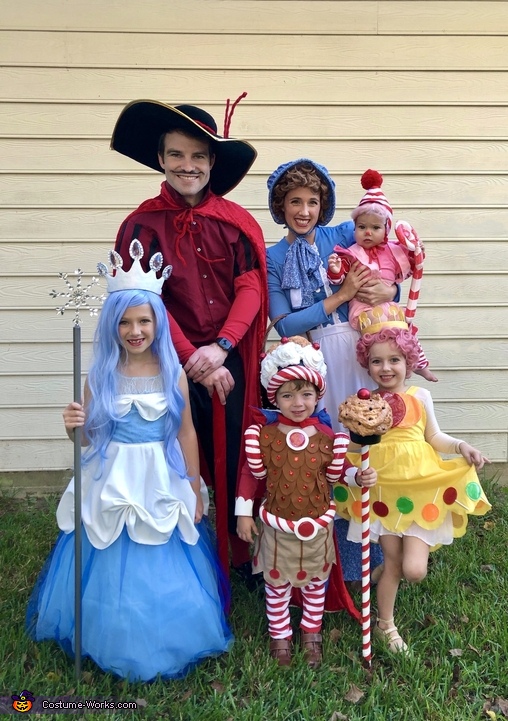 The Candy Land Crew
More views:
(click to enlarge)
A word from Kaitlin, the 'The Candy Land Crew' costume creator:
We love the game Candy Land at our home! My kids all have a favorite character from the board game so we decided to dress up as those characters this year. I was Gramma Nut, my husband is Lord Licorice, and our kids are Queen Frostine, Princess Lolly, King Kandy, and Mr. Mint. Most of the costumes were thrifted items that we added to.
Gramma Nut's outfit is the only costume that was bought as a complete set. We had the wig and the basket.
Lord Licorice- I used a thrifted button down shirt, cut down the sleeves, added black felt stripes and batting to make the sleeves fuller. We already had the hat (added red pipe cleaners for the licorice around the top), cape, pants, socks and shoes. For his cane we glued red pipe cleaners to a dowel rod.
Queen Frostine- I bought a blue dress and added blue tulle, and white "frosting" pieces to it. We bought the blue wig. Her crown I made out of craft foam, wire, and rhinestones. Her wand is an old curtain rod we had with a Christmas ornament attached to the top.
Princess Lolly- I purchased the yellow dress but cut the scalloped edges. The lollipops on her dress are felt with clear plastic vinyl sewed on top. I added actual lollipop sticks to the dress by gluing them on. We bought her wig. Her crown is also made out of craft foam and wire. I actually made the lollipops on top out of resin using a lollipop mold and attached them using hot glue.
King Kandy- I bought a red shirt and glued brown felt and red rhinestones for the front of the shirt. The candy cane sleeves, belt, and bottom the crown are all pipe insulation that I wrapped in red and white duct tape. For his crown I started with a foam top hat and added spray foam for the cookie top. The whipped cream is made out of lightweight spackling and the cherries are ornaments. His scepter is a broom stick wrapped in duct tape, a round plastic container (spray painted), spray foam and an ornament. We had his striped pants and thrifted the cape.
Mr. Mint- I sewed the baby bloomer overalls and the candy cane stripe bonnet. I bought two pairs of striped leg warmers which was used for her arms and her legs. I bought the pink ruffle sleeve onesie and the candy cane.