The Beldam - Coraline's Other Mother Costume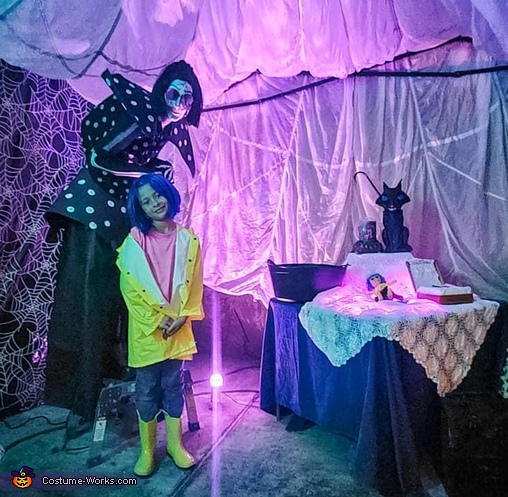 Coraline's other world
More views:
(click to enlarge)
A word from Kate, the 'The Beldam - Coraline's Other Mother' costume creator:
The costume inspired me from my 7-yr old. She has to be a character from a book at the character parade at school.
We chose Coraline because (originally she wanted her hair dyed) but we comprised With a blue wig when I told her that I would twin with her. After reading the book and watching the movie (again and again) I really wanted to go abstract.
When I saw The other mother change into the Beldam, my imagination ran wild. I watched several YouTube videos and scanned over Pinterest for weeks. I saw one picture that inspired me And knew I had to take it up one more level.

My costume was made of weed barrier used in a garden (long skirt) the polka dot skirt and collar is craft foam held together by binder clips. The polka dot shirt is a shirt I had. I used a small pillow for my crouched back. My gloves were Bought at the Halloween store. My black wig is a synthetic hair which I bought 20 yrs ago. It seems to make its way out of storage every Halloween.
Craft foam (again) for the button eyes and taped to my reading glasses.

I set up my pop up tent in the driveway. I draped an old parachute inside. The webbed wall is plastic table cloths. The accessories (cat and doll) were also made/ upcycled.
The cat was an animated cat from Target and I gave it a paper mache make over.
The doll was made from materials I had in my home (wire, clay, old pillow stuffing, washi tape, glue)
Add lighting.