The Beatles Sgt Pepper Costume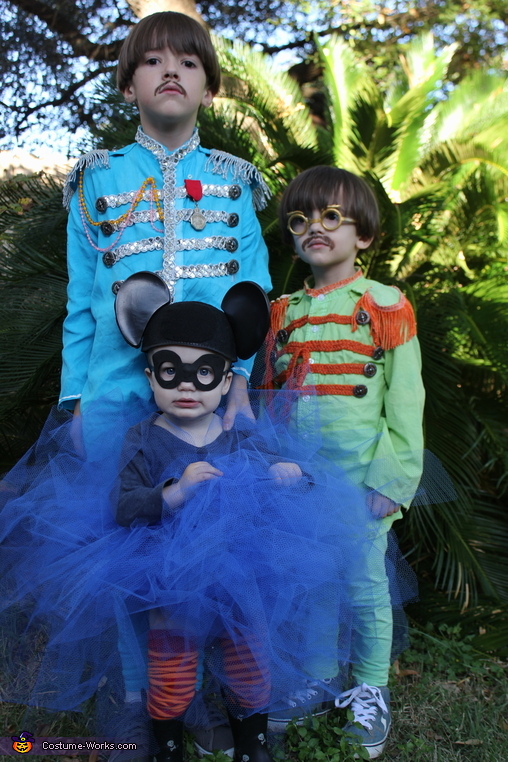 'All Together Now'
More views:
(click to enlarge)
A word from Eliza, the 'The Beatles Sgt Pepper' costume creator:
"I got by with a little help from"... my 3 sons...
Django & Roosevelt were John and Paul from The Beatles iconic Sgt Pepper album. The idea was always in the back of my mind (as I'm obsessed with The Beatles) but felt too overwhelming for years. But then this year they started getting into the Beatles on their own and really wanted to do it. My youngest, Fargo, was a Blue Meanie from The Beatles' Yellow Submarine. For John and Paul I used oversized button shirts and white pants, dyed them and hand stitched all of the details. For john's trim (since this color of orange wasn't anywhere to be seen) I had to color white fringe orange with a marker and use yarn to braid into trim. For Paul's I found silver fringe and trim (thank goodness). I hand to sew the shirts to fit the boys, trimmed and used excess parts I cut off (like the top of the collars) to make the circular shoulder pads. I began on this costume in July...hehe. But apparently for months the boys have been staring at the Sgt Pepper poster we have in the art room and perfecting their expression... I didn't tell them how to look... was so adorable. For john's specs I used the same Groucho glasses and painted them gold. For the Blue Meanie I made two tutus but tying knots of tulle around and elastic band. I used Disneyland mouse ears and covered the logo with black felt. Next I took cheap Groucho glasses, removed the nose and mustache and stitched black craft foam onto the front of them. Finally I did hand paint the legendary drum head onto cardboard. The whole night they were a hit and stayed in character. We were also able to bring the instruments to one event and have them "Karaoke" the night away. More details are on my craft blog: www.wrenkraft.com.